Naruto: Volume 41
By Leroy Douresseaux
June 20, 2009 - 13:57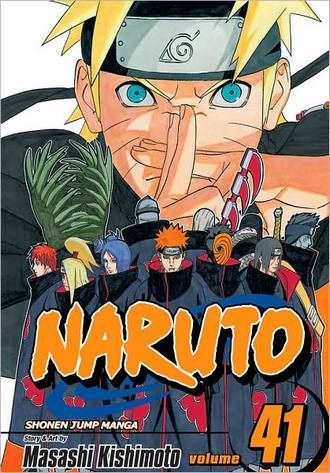 Naruto Volume 41 cover image is courtesy of barnesandnoble.com.
Rated "T" for "Teen"
Once the bane of the Konohagakure Ninja Academy, Uzumaki Naruto is now counted among the ranks of the Konoha shinobi (ninja). These illustrious ninja protect their village from evil, whether from inside or outside. But Naruto still wants to be the world's greatest ninja and one day – his village's Hokage (village champion).
In Naruto, Vol. 41 (entitled Jiraiya's Decision), Naruto's teacher, Jiraiya battles Akatsuki leader, Pain, but both men have plenty up their sleeves. Jiraiya must plumb the depths of his past and his memories if he is to discover Pain's secrets. It's a mystery from his youth, one that could have deadly consequences for the present and future.
THE LOWDOWN: Even a great manga series hits an occasional bump. The 41st volume of Naruto focuses so much on the Jiraiya/Pain battle that the narrative loses its usual intensity. The Land of Rain throw down between Naruto's teacher and the Akatsuki boss is all strategy and talk; one could almost believe that Chris Claremont scripted this fight. Creator Masashi Kishimoto's amazing visual inventiveness, however, is as awesome as ever.
POSSIBLE AUDIENCE: The must-have manga of the "Shonen Jump" line of titles is Naruto.
B+
Last Updated: January 24, 2022 - 11:00