Naruto: Volume 40
By Leroy Douresseaux
June 19, 2009 - 21:24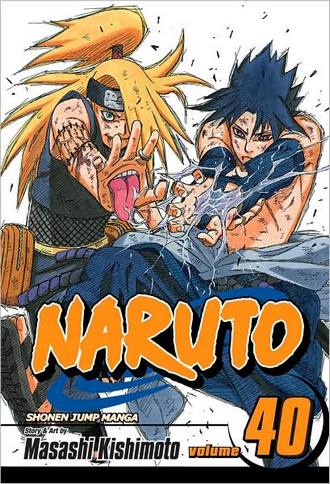 Naruto Volume 40 cover image is courtesy of barnesandnoble.com.
Rated "T" for "Teen"
Once he was an incorrigible, young student at the Konohagakure Ninja Academy. Now, Uzumaki Naruto has joined the ranks of the Konoha shinobi (ninja). Some things, however, haven't changed. Naruto is still on a quest to become the world's greatest ninja, and he hasn't lost his wild sense of humor and knack for mischief.
Naruto, Vol. 40 (entitled The Ultimate Art) continues the battle between Naruto's former teammate, Uchiha Sasuke, and the Akatsuki, Deidara, for whom art is explosive destruction. Meanwhile, in the Hidden Rain Village, the Akatsuki reveal more of their plans and their leader, Pain, steps forward.
THE LOWDOWN: The conspiracies become more far-ranging and even more characters step out from the shadows of this 40th tankoubon (volume) of Naruto. Even though there are so many characters, each gets to shine and reveal his or her personality. Karin, a member of Sasuke's renegade cell, The Hebi, continues to show herself as an intensely independent young woman, who acts on her emotions. Karin can hate with ferocity or shamelessly fall in love like a smitten teen girl, but her different way of doing things is one of the things that makes Naruto such an engaging read.
POSSIBLE AUDIENCE: Readers looking for the height of the shonen manga reading experience will find it in Naruto.
A
Last Updated: January 24, 2022 - 11:00