Naruto: Volume 39
By Leroy Douresseaux
June 18, 2009 - 19:18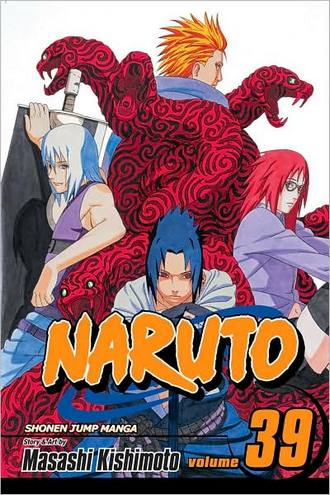 Naruto Volume 39 cover image is courtesy of barnesandnoble.com.
Rated "T" for "Teen"
Once an incorrigible, young student, Uzumaki Naruto is now fully a shinobi (ninja). His quest to become the world's greatest ninja, however, hasn't dampened his wild sense of humor and knack for mischief.
As Naruto, Vol. 39 (entitled On the Move) opens, Naruto's former teammate, Uchiha Sasuke, recruits the final member of his ninja cell, Jugo. Sasuke names his new cell, The Hebi, and begins the quest to reach his ultimate goal – the destruction of his brother, Uchiha Itachi, a wayward Akatsuki. Meanwhile, Naruto and the other Konoha ninja launch a mission to capture Itachi first. The Akatsuki also make their move on Itachi, and the one named Deidara looks forward to showing his explosive art to Sasuke.
THE LOWDOWN: Of course, the 39th tankoubon (volume) of Naruto is filled with the kind of battle scenes Naruto fans expect. On the other hand, creator Masashi Kishimoto's deft ability to create suspense and anticipation is a constant. He always makes it feel as if he's moving the readers towards something big just around every corner.
POSSIBLE AUDIENCE: The perfect manga for young male readers, Naruto will also appeal to adult readers of shonen manga (comics for teen boys).
A
Last Updated: January 24, 2022 - 11:00