Nana: Volume 11
By Leroy Douresseaux
Jun 26, 2008 - 9:18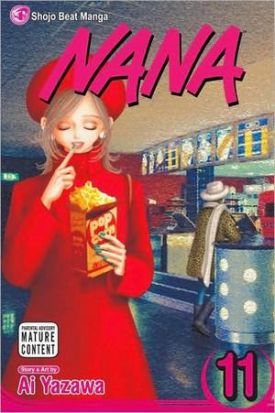 Thanks to barnesandnoble.com for the cover image to Nana 11.
Rated "M" for "Mature"
In this tale of two young women named "Nana," Nana "Hachi" Komatsu moves to Tokyo to start her life over, while Nana Osaki moves to the city to make it big as a rock star. Chance unites them, and together they navigate the world of fashion, gossip, music, sex, and all-night parties.
In Nana, Vol. 11, Nana Osaki and her Blast (Black Stones) band mates move into a weird, rundown dorm building to avoid the media – at the behest of their record company, which is starting to seem like a yakuza-run operation. This is the same record company that has them on a very tight schedule, with all their time spent in the recording studio, giving interviews, and preparing for their first TV appearance on the hot music show, "Music Studio." The biggest surprise is that Blast will share the stage with Trapnest, the band led by Takumi Ichinose, Hachi's husband-to-be. After a long separation, are Nana and Nana headed for a reunion?
THE LOWDOWN: At one point in Nana, Vol. 11, a character warns another character against the conversation becoming like something out of "a hip love drama." On the surface, this josei manga (comics for adult women) does come across as a crazy, sexy, cool, rock music soap opera – a hip love drama. Nana, however, is a very involved character drama. Alternately labyrinthine and almost clinical in her depiction of complex friendships and associations, manga-ka Ai Yazawa peels back the layers of these characters and their bonds (sometimes almost in maddening detail) as if she herself is just discovering these people. Sometimes, that is problematic for the narrative flow, but mostly, it's engaging.
Visually, Yazawa's art is ornate, as she takes something like a decorative approach to drawing the characters, though often Yazawa's art is chic and razor sharp cool. Perhaps, this appealing style is why Nana will come across like manga as music video/teen soap. Nana also bears a passing resemblance to classic Jaime Hernandez Love & Rockets comics, especially the stories found in the book collection, The Girl from H.O.P.P.E.R.S.
POSSIBLE AUDIENCE: Not quite like manga from VIZ Media's "Shojo Beat" line (although it is part of this line), Nana is grown folks drama.
B+
Last Updated: Dec 19, 2017 - 22:52