My Love Story!!: Volume 7 manga review
By Leroy Douresseaux
January 1, 2016 - 21:56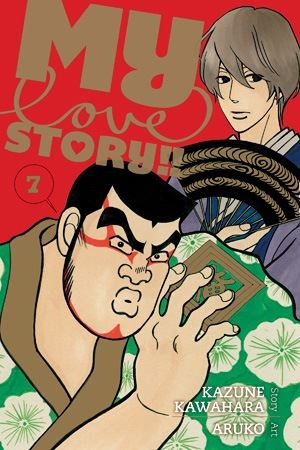 My Love Story Volume 7 cover image
Rated "T" for "Teen"
Takeo Goda
is a giant guy, and he isn't the most attractive fellow. However, this high school student also has a giant heart, but girls at the school he attends,
Shuei High School
, won't have anything to do with him. Then, Takeo meets
Rinko Yamato
, from Koizumi Girls Academy, after saving her from a harasser on the train. Yamato falls in love with Takeo and changes his life. Takeo's long-time friend,
Makoto Sunakawa
, tags along for fun.
As
My Love Story!!

, Vol. 7
(Chapters 24 to 27) opens, Takeo confronts the girl who has been stalking him and Sunakawa. She is
Yukika Amami
, and she has known Takeo and Sunakawa since preschool, although they have little memory of her. It turns out that Yukika has been sending chocolates to Sunakawa for years, but she has been doing so anonymously. Now, Takeo and Yamato are going to help her finally talk to the guy she loves. One must ask, however, is Sunakawa romantically interested in Yukika?
THE LOWDOWN:
Now, I am a full-on fan of the
My Love Story!!
manga. The series is in the midst of a high point, as the creators,
Kazune Kawahara
(writer) and
Aruko
(artist), focus on the bonds of love and friendship.
My Love Story!! Volume 7
looks at unrequited love and high school crushes in a manner that is both endearing and substantive. It does not peddle romance comics clichés, nor does it take the easy way out either with a happy ending or a sad ending. I did not think I would ever say this after reading two consecutive volumes of
My Love Story!!
, but I can't wait for the next volume.
POSSIBLE AUDIENCE:
Readers looking for sweet love stories will want to try the Shojo Beat title,
My Love Story!!
Last Updated: August 31, 2023 - 08:12