Scandal [JP] Greets Fans Ahead of U.S./Mexico Tour
By The Editor
August 23, 2018 - 04:46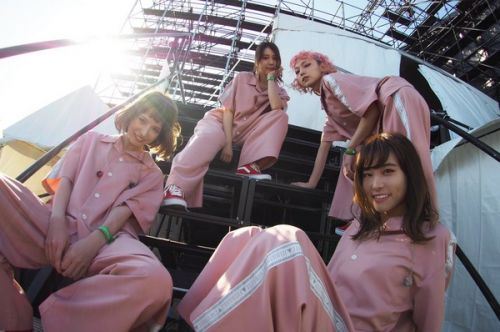 Scandal group image - members in pink
ROCK BAND SCANDAL FROM JAPAN RELEASES A SPECIAL VIDEO GREETING FOR NORTH AMERICAN FANS AHEAD OF THE BAND'S U.S. AND MEXICO CONCERT DATES
Acclaimed All-Girl Rock Band Tours In Support Of 8th Album "HONEY" And Will Perform In New York, San Francisco, Anaheim And Dallas As Well As 2 Shows In Mexico In September; Tickets On-Sale Now!
Japanese all-girl rock act and Epic Records Japan recording artist, SCANDAL [JP], has just released a special video greeting aimed at its North American fans ahead of the group's upcoming September concert dates in the U.S. and Mexico.
The video, which just posted on the band's official Facebook page, is set to a 30-second clip of "Platform Syndrome," the lead single off from the latest SCANDAL album, HONEY, and features a personal greeting from the group:
https://www.facebook.com/scandalofficial/videos/1073789066128718/
SCANDAL [JP] is one of Japan's most popular rock bands, epitomizing the "J-Rock" aesthetic. The 4-piece unit adeptly blends pop, rock and alternative music sensibilities with hip and contemporary fashion sensibilities and unstoppable girl star power. The band is presently in the midst of a world tour in support of its new record, HONEY, which was released in February.
SCANDAL [JP] Summer 2018 North American Tour Dates
Wednesday, September 5th – New York City, NY at Playstation Theatre
Tickets - www.playstationtheater.com/events/detail/354240
Friday, September 7th – San Francisco, CA at The Regency Ballroom
Tickets - www.theregencyballroom.com/events/detail/354195
Sunday, September 9th – Anaheim, CA at House of Blues
Tickets - www.livenation.com/events/829179-sep-9-2018-scandal
Wednesday, September 12th – Monterrey, Mexico at Escena
Tickets - TBA
Friday, September 14th – Mexico City, Mexico at El Plaza Condesa
Tickets: www.elplaza.mx
Sunday, September 16th – Dallas, TX at The Bomb Factory
Tickets - https://www.ticketfly.com/purchase/event/1693856
New Album - HONEY
With the band's newest Epic Record Japan release, SCANDAL [JP]l sought to deliver an album of love songs, told from a female point of view. The band's eighth studio album, HONEY, dropped on February, 2018 and peaked at #3 on the Japanese Oricon weekly sales charts and extended the band's streak of being the only girl group to consecutively have each of their albums place the Oricon Top 5. The album features ten tracks including a rendition of the band's 10th Anniversary single, "Take Me Out."
About SCANDAL [JP]
SCANDAL [JP] formed in August, 2006 among four high school girls that attended the same vocal and dance school in Osaka, Japan. Taking their name from a shop sign that hung near the studio where they practiced in their early days, the band, which consists of Haruna (lead vocals, rhythm guitar), Mami (lead guitar, backing vocals), Tomomi (bass, lead vocals), and Rina (drums, keyboards, guitar, backing vocals), shared a mutual love of western rock bands and artists ranging from Green Day, Foo Fighters and Paramore to the pop styling of Taylor Swift and Pink. SCANDAL [JP] embarked on an extensive world tour in 2015, selling out venues across North America, and Europe. The group continues to hone its dynamic mix of frenetic melody-driven energy mixed with smooth, pop-styled vocals that have become its hallmark.
SCANDAL [JP] Official Website: http://www.scandal-4.com/
Official Facebook: https://www.facebook.com/scandalofficial
Official Twitter: https://twitter.com/scandal_band
Official Instagram: https://www.instagram.com/scandal_band_official/
Official YouTube Channel: https://www.youtube.com/user/scandalSMEJ
Last Updated: September 6, 2021 - 08:15