Guitarist MIYAVI Announces North American Concert Tour
By The Editor
April 11, 2018 - 20:38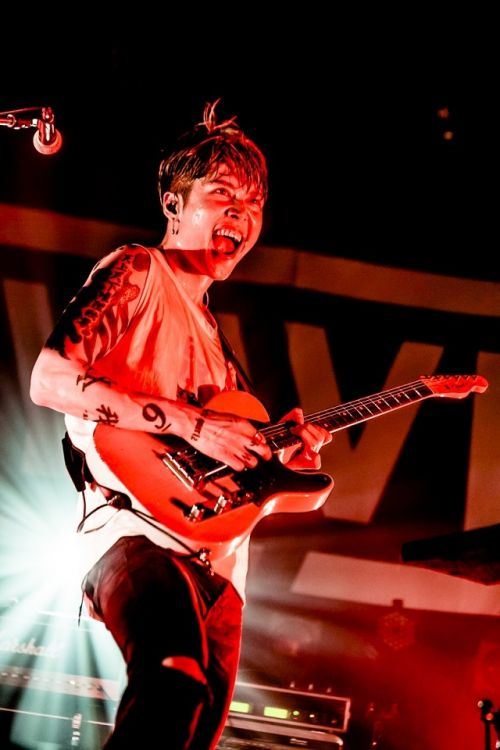 MIYAVI photo image
Famed Japanese Guitarist MIYAVI Announces North American Concert Dates For "DAY 2" Tour
"The Samurai Guitarist" And Star Of Angelina Jolie-Directed Film "Unbroken" Is Renowned For Incredible Slap Style Of Guitar Playing And Will Perform Live Concerts In 6 Major U.S. Cities In May
Universal Music Japan recording artist MIYAVI will perform a series of upcoming U.S. live concerts. Through his management company, J-GLAM, MIYAVI has announced the North American dates as part of his current "Day 2 World Tour 2018".
U.S. concert dates are as follows:
May 5 – El Rey Theatre, Los Angeles, CA
May 11 – Slim's, San Francisco, CA
May 13 – The Crocodile, Seattle, WA
May 16 – The Phoenix Concert Theatre, Toronto, ON
May 18 - The Fillmore, Philadelphia, PA
May 20 – Irving Plaza, New York City, NY
Tickets are on-sale now and available from Ticketmaster, Viagogo, AXS and other concert retailers.
"Performing live is always a special treat for me and I look forward to delivering some mind-blowing shows that will captivate new and old fans alike," says MIYAVI.
The guitarist will be backed up on tour by longtime drummer Bobo as well as new bandmates DJ Jonny and 2 Chorus. MIYAVI will draw from material across his entire discography and is also set to perform his latest song, "Long Nights," an intensely powerful track powerfully driven by pulsating guitars and punctuated with stark lyrics from Afghan phenom rapper, Sonita, who was herself the subject of an acclaimed eponymous documentary that took the World Documentary Grand Jury Prize and Audience Award at the 2016 Sundance Film Festival.
Catch the music video for "Long Nights" HERE; the track is available now from iTunes and Spotify.
MIYAVI is a world-renowned musician, actor and philanthropist, dedicated to bridging cultures across the globe with his music and work for numerous humanitarian causes. Known as the "Samurai Guitarist," MIYAVI is known for his unconventional style of guitar playing – performing not with a pick, but with his fingers in a method dubbed "slap style."
To-date, MIYAVI has embarked on 5 world tours and performed in over 30 countries. He has released 10 studio albums, numerous singles, and performed with artists such as Lenny Kravitz, 21 Pilots, and 30 Seconds to Mars.
MIYAVI's 2016 album Fire Bird debuted at #1 in Japan and has found success all across Asia and Europe. He also has been the face of Beats headphones in Japan and has served as a world ambassador for the famed French jewelry and watch company, Piaget.
MIYAVI was celebrated internationally for his acting debut, portraying Imperial Japanese Army sergeant Mutsuhiro Watanabe in the 2014 film, Unbroken, directed by Oscar-winning actress Angelina Jolie.
MIYAVI has continued to explore acting and was recently featured in the 2017 Warner Bros. film, Skull Island. He is presently set star in an upcoming Japanese live-action movie based on the smash hit supernatural action manga and anime series, Bleach.
On the humanitarian side, MIYAVI continues his important work with UNHCR, the UN Refugee Agency, which works to aid and protect refugees, forcibly displaced communities and stateless people. In 2016 and 2017, MIYAVI visited refugee camps in around the world and helped to spread the message of the ongoing global refugee crisis. In November 2017, he was appointed an official UN Goodwill Ambassador.
MIYAVI's 2015 album, The Others, was produced by Grammy Award winning Drew Ramsey and Shannon Sanders. The song "Alien Girl" was dedicated to Angelina Jolie, while the album's title song, "The Others", was later released in a different version to support UNHCR. The album ranked 10th on the Oricon Japanese music charts and was followed by a nationwide Japanese tour, a European tour (his fifth on the continent) and a concert in South Korea.
Official website: http://myv382tokyo.com/
Facebook: www.facebook.com/MIYAVI.OFFlCIAL/
Instagram: https://www.instagram.com/miyavi_ishihara/
Twitter: https://twitter.com/MIYAVI_OFFICIAL
Last Updated: September 6, 2021 - 08:15