Disney's Zootopia movie review

By Leroy Douresseaux
June 14, 2016 - 23:18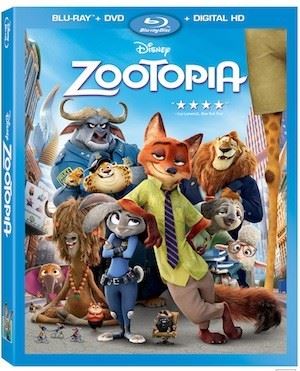 Zootopia Blu-ray/DVD Combo Pack box image
Walt Disney Animation Studios' (WDAS) comedy-adventure,
Zootopia
, has broken records worldwide and has earned over $1 billion at the global box office to date. The best reviewed movie of 2016 and runaway hit arrived in home on Digital HD, Blu-ray, Disney Movies Anywhere, DVD, and On-Demand platforms on Tuesday, June 7, 2016. Viewers can enjoy the vibrant world of Zootopia and also discover more about the evolution of this extraordinary tale through in-depth bonus offerings.
Zootopia
is populated by anthropomorphic mammals (cartoon or fictional animals that walk and talk like humans).
Officer Judy Hopps
(Ginnifer Goodwin) is a young female rabbit from the rural hamlet of
Bunnyburrow
. Her childhood dream was to be a police officer. She recently moved to the urban utopia of
Zootopia
where she just became a rookie cop with the
Zootopia Police Department
.
However, her boss,
Chief Bobo
(Idris Elba), a cape buffalo, does not believe that a bunny can be a cop; honestly, almost no one believes a little bunny rabbit can make it as a cop. Chief Bobo assigns Officer Hopps to the traffic division where she becomes a meter maid, handing out parking tickets. Early in her career, Judy is even tricked by
Nicholas P. "Nick" Wilde
(Jason Bateman), a cynical red fox who runs various cons and hustles. Fate brings them together to solve the mystery of missing mammals, and the straight-laced Judy and street-smart Nick make a good team. However, neither understands the true extant of the conspiracy surrounding this missing persons case.
After Disney formally purchased Pixar (in 2006), the deal essentially united the Oscar-winning computer-animation studio with Walt Disney Animation Studios, there has been a marked improvement in the computer-animated films produced by the WDAS. The credit for that success often goes to Pixar's John Lasseter who is Chief Creative Officer (CCO) for both units. Under his watch, Walt Disney Feature Animation has produced such smash hits as
Tangled
and
Wreck-It-Ralph
, as well as the Oscar-winning, worldwide, monster hit,
Frozen
.
I keep thinking that there is nothing left that either Pixar or WDAS can do to surprise me, but Pixar blew my mind with last year's
Inside Out
. Now, I am stunned by
Zootopia
, which is not only fantastic, but is also timely.
Zootopia
is an American animated film that is aimed at the broad family audience, yet bluntly addresses issues of prejudice, discrimination, and stereotypes.
Zootopia
is a film about us, the human race, but especially about the United States of America.
We are
Zootopia
, that shining city on the hill. This place of dreams and of hope is filled with people who secretly harbor all manners of assumptions and prejudices about their fellow citizens. The course of
Zootopia
's story and of Judy's story is to steer everyone to their better selves. This could have been yet another animated film full of wise-cracking, eccentric talking animal characters that make the audience laugh, but the creators and filmmakers behind
Zootopia
wanted more. The result truly is a film that can be called a "Walt Disney Animated Classic."
As the lead characters, Judy and Nick, Ginnifer Goodwin and Jason Bateman give performances that certainly deserve to be called great. Goodwin gives Judy so much color and depth, making the bunny cop a character that is bigger than than this movie;
Zootopia
seems to be a single chapter in the life of a fictional character with much more to say. Bateman delivers his usual genial, smooth, and droll comedy style onto Nick, but he makes the sly red fox the wise, guiding hand that a young rookie bunny cop needs.
Thoughtful and occasionally brilliant,
Zootopia
cheats a little in its last act, taking the easy way out so that it can deliver a happy ending. Still, even its action-centered resolution of the conspiracy offers a delightful surprise and sticks to the story's message about the harm of prejudice and the dangers of racism and xenophobia. Perhaps, live-action films can learn a lesson from the state-of-the-art, computer-animated
Zootopia
. Movies can be smart, timely, and deliver a few messages AND also be big, entertaining event films.
A+
Bonus features include on Blu-ray 3D, Blu-ray, and Digital HD:
Zoology: The Roundtables
– Ginnifer Goodwin hosts an in-depth look at the movie's characters, animation, environments and more. The artists at Disney Animation give a rare and in-depth look at the complexities of bringing an all-animal world to life from the ground-breaking technology behind the characters' fur and clothing to the varied and vast environments of Tundratown, Sahara Square and the Rainforest District as well as the deep thought and research given to bringing 64 unique animal species to life through animation.
The Origin of an Animal Tale
– Follow the story's development from its origins to a big story shift that turned the film upside down. In this feature-length documentary, filmmakers give a candid look into the difficulties of creating the story of Zootopia and the bold decision to switch the main character late in the production process, putting one resolute rabbit center stage.
Research: A True-Life Adventure
– The filmmakers traveled the globe to find inspiration for the diverse characters and amazing city of Zootopia. They reflect on the importance of research and how a deep dive into animal behavior at Disney Animal Kingdom theme park and a deep immersion into animal society on the African savanna shaped and inspired the characters of Zootopia and changed the filmmakers' lives forever.
Z.P.D. Forensic Files
– Find the movie's hidden Easter Eggs. Every city has its hidden gems, especially when it has been created by the filmmakers of Disney Animation who love nothing more than sprinkling hidden references to some of Disney's greatest animated features throughout the story.
Scoretopia
– Academy Award®-winning composer, Michael Giacchino spotlights five of cinema's greatest percussionists and how they brought an organic, animalistic sound to his powerful and emotional music score.
Deleted Characters
– Directors Byron Howard and Rich Moore introduce citizens of Zootopia who did not make the final cut.
Deleted Scenes:
Alternate Opening
– Young Judy Hopps rescues a fellow classmate and realizes she can reach beyond a life in carrot farming to a future in law enforcement.
Wild Times! Pitch
– Nick desperately pitches the bankers of Zootopia on funding Wild Times!, an amusement park made exclusively for the predators of Zootopia and a sure-fire, money-making scheme for Nick and his friends.
Alternate Homesick Hopps
– After a frustrating first day on the force, Judy has a conversation with her parents. See how this scene changed from a heartfelt conversation with her parents to tough love when her parents discover their daughter is only a meter maid and not a "real cop."
Detective Work
– Judy borrows a fellow police officer's computer to conduct research, which turns out to be no small task.
Alternate Jumbo Pop
– In this early version of the story where Nick was the main character, the filmmakers and Jason Bateman were able to take hustling to a new level.
Hopps' Apartment
– When Judy's entire family pays her a surprise visit they are shocked to discover the company she's keeping.
The Taming Party
– In this emotional clip from an early version of "Zootopia," Judy attends her first "taming party" and gains a deeper understanding of the plight of the predator.
"Try Everything" Music Video by Shakira
DIGITAL HD EXCLUSIVE:
International Character Reel - See the variances in the news reporter characters of Zootopia from around the world.
CLIPS:
Deleted Characters Montage
LINK: https://youtu.be/Ifsg8ARqXWk
Voices Bonus Features Clip
LINK: https://youtu.be/SGZGozcGAgc
Hidden Mickeys Easter Egg
LINK: https://youtu.be/EN09czRkyVg
Rating: 9 /10
Last Updated: August 31, 2023 - 08:12