Comics / Comic Reviews / DC Comics
Mother Panic #2 comics review
By Leroy Douresseaux
Feb 7, 2017 - 22:38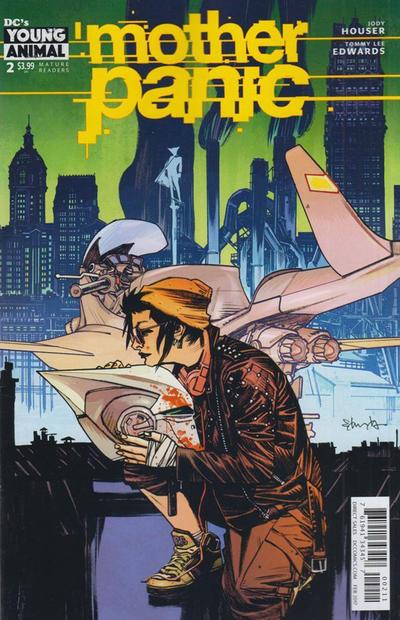 Mother Panic #2 cover image
Mature Readers

"A Work in Progress" Part 2
Young Animal is a recently-launched DC Comics imprint. It is curated by rock musician (My Chemical Romance) and comics creator, Gerard Way (The Umbrella Academy). The first three Young Animal titles that were released were remakes and re-imaginings of two Silver Age DC comics series (Doom Patrol, Cave Carson Has a Cybernetic Eye) and one cult property (Shade the Changing Man has become Shade the Changing Girl).
Mother Panic
is a brand new comic book creation about a brand new vigilante who calls Gotham City (Batman's hometown) her stomping grounds. The series stars wealthy prodigal daughter, Violet Paige, who returns to Gotham to clean up the city's filthy, disturbed underbelly while pretending to be a "celebutante." Mother Panic is written by
Jody Houser
; illustrated by
Tommy Lee Edwards
; and lettered by
John Workman
.
Mother Panic

#2
opens as Violet prepares to take down Mr. Hemsley and to trace a sex trafficking ring to its source. First, she will have to find Hemsley, and what better place than the 2017 Gotham Victims Fund Gala. However, Violet's mission is tied to her own troubled past, which may affect her ability to... ahem... execute her plan. Plus, a Gotham hero makes a cameo.
THE LOWDOWN:
From reading different web articles, I gather that the point of Mother Panic is to present stories from Batman's hometown that are too disturbing to be told in Batman comic books that are marketed to readers of all-ages. Mother Panic is basically a quasi Batman-related title for adult readers. I was only mildly interested after reading the first issue, but I feel different after reading Mother Panic #2.
In my review of the first issue, I said that Mother Panic might turn out to be a really good title, but I found that the first issue teased the reader and only offered standard superhero fare (violence). However, I am starting to find Violet Paige to be an intriguing and likable character. There is something cool about her costume and "flying" motorcycle, but there is something even cooler, Violet's emerging personality. I am reviewing Mother Panic #2 via a PDF that DC Comics makes available to reviewers. I feel confident in recommending Mother Panic because I will read the next PDF and may eventually start buying the comic book.
I READS YOU RECOMMENDS:
Fans of comic books set in Gotham City may want to give
Mother Panic
a try.
[This issue includes a bonus story "Gotham Radio Scene One: The Morning After" by Jim Krueger, Phil Hester, Ande Parks, Trish Mulvihill, and Deron Bennett.]
B+
Rating: B+ /10
Support this writer on Patreon
Last Updated: Jun 26, 2018 - 9:28