Monster Hunter: Flash Hunter Volume 7
By Leroy Douresseaux
Apr 19, 2017 - 21:34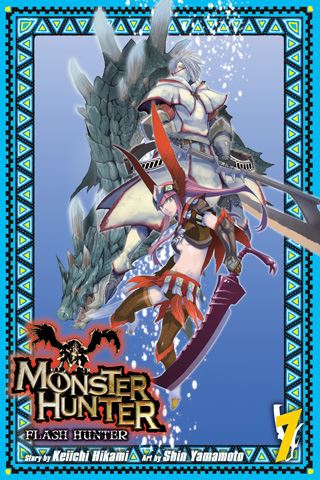 Monster Hunter: Flash Hunter Volume 7 cover image
Rated "T+" for "Older Teen"
Monster Hunter: Flash Hunter
is an action and fantasy manga written by
Keiichi Hikami
and drawn by
Shin Yamamoto
. Monster Hunter: Flash Hunter is based on Capcom's
Monster Hunter
video game series that was initially developed for the PlayStation 2.
Monster Hunter: Flash Hunter is set in an age when monsters rule the world: soaring through the sky, treading the earth, and filling the seas. These monsters have forced humanity to survive on the fringes, so people rely on a special kind of hero to defend them from danger – the Monster Hunters. Fledgling hunter,
Raiga
; talented hunter,
Keres
; and hunter-scholar,
Torche
pledge to protect humanity from these monsters with all their might.
Monster Hunter: Flash Hunter

, Vol. 7
(Chapters 48 to 55) finds Keres with an apprentice,
Muriel
. She not only has to learn the practical skills of hunting, but Muriel also learn more about Keres' background and why he became a hunter. She has to learn that and help Keres fight a fearsome and formidable
Nargacuga
. Meanwhile, Raiga and Torche head to
Loc Lac
to fight the mysterious water-based monster, the
Lagiacrus
.
[This volume includes a chapter of "Another Hunter" (Chapter 9) and the bonus manga, "Monhun and Me: My Hunting Rules."]
THE LOWDOWN:
Periodically, my VIZ Media press rep will send me a copy of the Monster Hunter: Flash Hunter manga for review. The first volume I read (Vol. 2) did not make much of an impression on me. Sill, I did think the series had some potential, and Vol. 4 proved that to be true
Monster Hunter: Flash Hunter Volume 7
shows that the storytellers are trying to push this manga beyond its video game roots and does so by delving into character. I must admit that when the story digs deeper into the characters' histories and motivations, the narrative becomes something more than a monster comic.
Don't worry, though. Shin Yamamoto has fun with the big fight scenes, fashioning pages featuring big panels that become several pages of epic battle. This is battle manga in wide screen with some inventive monsters and stalwart heroes. Yes, Monster Hunter: Flash Hunter is worth a look.
I READS YOU RECOMMENDS:
Fans of the Monster Hunter video game franchise will want to try
Monster Hunter: Flash Hunter
.
B+
Rating: B+ /10
Support this writer on Patreon
Last Updated: Jun 26, 2018 - 9:28