Spider-Man 2 movie Review
By Hervé St-Louis
July 2, 2004 - 11:40
Studios: Columbia Pictures
Starring: Tobey Maguire (Spider-Man/Peter Parker), Kirsten Dunst (Mary Jane Watson), James Franco (Harry Osborn), Alfred Molina (Doc Ock/Dr. Otto Octavius), Rosemary Harris (May Parker), J. K. Simmons (J. Jonah Jameson), Donna Murphy (Rosalie Octavius), Daniel Gillies (John Jameson), Dylan Baker (Dr. Curt Connors), Bill Nunn (Robbie Robertson), Vanessa Ferlito (Louise), Aasif Mandvi (Mr. Aziz) and Cliff Robertson (Ben Parker)
Directed by: Sam Raimi
Produced by: Laura Ziskin and Avi Arad
Running Time: 110 minutes
Distributors: Columbia Pictures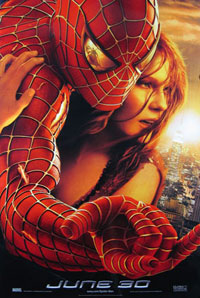 Director of photography, Bill Pope; edited by Bob Murawski; music by Danny Elfman; production designer, Neil Spisak;

Spider-man 2 is a great movie that follows the successful movie released in 2002. Peter parker struggles to fit Spider-man into his personal life, while facing Doctor Octopus, Dr Otto Octavius, a brilliant scientist who turns into a mad villain. With its mix of action, soap opera and drama, Spider-man 2 is a movie all audiences can relate to while being a great comic book adaptation.


Much of the story focus on the personal life of Peter Parker. In fact, Spider-man appearances are brief. Even then, we get to see Peter without his mask. The writers didn't pull any punches as they introduced conflicts into Peter's life. Being Spider-man is not even a good way to escape his life. The writers captured this aspect of Spider-man that has always made him a fan favourite.


Visually, the special effects are better than the last movie. Spider-man's acrobatic look less synthetic than in the first movie. He moves better and borrows much of his moves from the comic books. The costume has change somewhat. It has less texture and feels like it's made of plastic. Of note is the painted storyboard that recaps events from the first movie. That was quite original.

Rating: 9/10
Related Articles:
Spider-Man 3 Third Movie Review
Spider-Man 3 Second Movie Review
Spider-Man 3 First Movie Review
Spider-Man 2 movie Review