Slumdog Millionaire
By Nathan Schwartz
February 12, 2009 - 17:00
Writer(s): Simon Beaufoy
Starring: Dev Patel, Madhur Mittal, Freida Pinto, Anil Kapoor, Irrfan Khan, Saurabh Shukla, Rajendranath Zutshi, Jeneva Telwar
Directed by: Danny Boyle, Loveleen Tandan
Produced by: Executive: Tessa Ross, Paul Smith
Rating: R
Distributors: Fox Searchlight
Genre: Crime, Drama, Romance, Comedy
Slumdog Millionaire,
a favorite pick at the academy awards, was so incredible that I was overwhelmed by awe both times I saw it. From start to finish the movie is a magnum opus. Not only is the acting and cinematography splendid, it also manages to pull off just about every genre, from action and drama to comedy and romance, magnificently! I did find one snag in the film, but it is not enough to take away any of the veneration this movie greatly deserves.
The story opens with Jamal Malik (Patel), an introvert and love driven boy, being tortured by the cops. Jamal was suspected of cheating in the Indian equivalent of Who Wants To Be A Millionaire, for he had made it to the point where he was one question away from winning the top prize of twenty million rupees. This was a problem due to his age and background. Jamal is in his late teens to early twenties and works at a service center, so how is it possible that he knew all the answers? The cops, after failing to torture the "truth" out of him, opt to question each and every one of his answers to figure out how he knew them. What ensues is a journey through Jamal's childhood. Each question that was asked during Who Wants To Be A Millionaire corresponded to voyages and hardships he and his brother Salim (Mittal) faced as youngsters, growing up as poor slumdogs in Mumbai. Furthermore, a romance involving Latika (Pinto), the gorgeous, careworn love interest, unfolds within the aforementioned excursion through Jamal's past.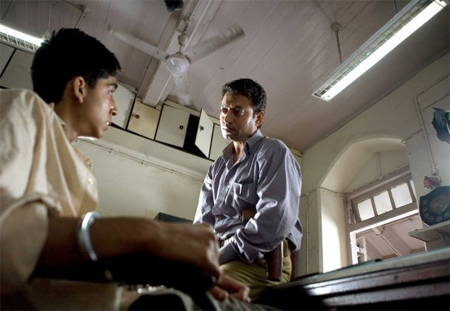 The story is riveting and rich not only due to the incorporation of all different genres, but how seamlessly it was able to hurl you through the ever-changing film categories. Without a moment's rest, the movie takes your heart and yanks it through all possible emotional states. As well, I loved the themes that were integrated into the film, such as love and war. While both brothers were well equipped with street smarts, the ways in which they acted were day and night. Salim was more forceful. He used anger, violence and fear mongering to establish his place on the survival chain. Jamal, being the polar opposite, opted to compassion and love as a driving force.
The actors chosen to play each character as they grew were right on the ball. Each actor looked so much like the character they were playing that I could have easily believed that this movie was filmed over a span of eighteen years. The acting was just as splendid. Dev Patel, the recluse, smart, love struck protagonist was astounding. His love for Latika was so real and powerful. Every time she left or was taken away you could see his heart breaking, and when she came back, he would light up. In fact, all of his emotional responses throughout the film were magnificent. All the other actors were great as well; I have nothing negative to say about any of them. Even the younger, adorable versions of the characters, whom I'd expected to be rather poor acting wise, were splendid to watch.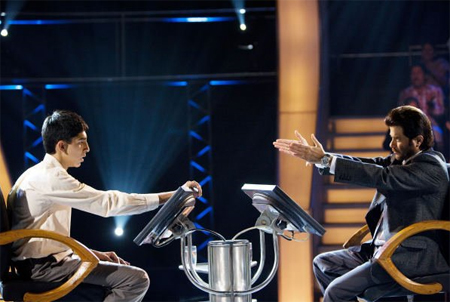 Moreover, the musical arrangement in this film was perfect. Though it was mostly upbeat, to keep with the pacing of the film, the music added greatly to the heart racing intensity of this film. The songs that were chosen perfectly complemented the scenes they were assigned to.
Unfortunately, there was one issue that kind of bothered me. There was a point where the pre-teen brothers, after being tossed off a train, start giving tours of the Taj Mahal to English speaking tourists. There is no point where we see the boys learning or ever talking the language, so how are they all of a sudden giving tours in fluent English? They are slumdogs, the bottom of the social and economic barrel, living with people in the same situation, and they somehow managed to learn English. Maybe they did learn the language, but it never showed me where or when.
I am usually not such a fan of movies with subtitles, as I prefer to watch a movie rather than read it, but this one was so amazing that I completely overlooked that little factoid. You will be thrown on an emotional, romantic, action packed thrill ride, but by the end you will be smiling from ear to ear.
9.5/10
Related Articles:
Slumdog Millionaire
2008 Golden Globe Winners, "Slumdog" Dominates