Relativity Media, Archaia Entertainment, and Fandango Team Up For National Immortals Promotion
By The Editor
May 20, 2011 - 05:03
Archaia Studios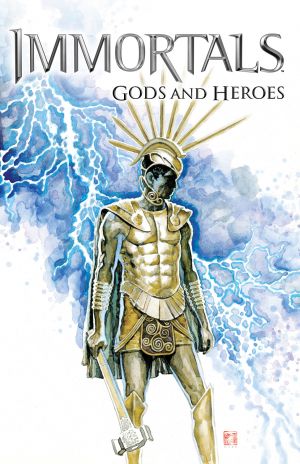 Do you have what it takes to be a Greek God or Goddess? If so, then Relativity Media – the studio behind the visually spectacular 3D action adventure

Immortals

– wants you to sign up right away! Exclusively offered via Facebook today, the Relativity-Archaia

Immortals

promotion sponsored by Fandango, the nation's leading moviegoer destination, will crown the winners on July 1 with a king's ransom-worth of prizes, including a grand prize where contest winners will be immortalized as graphic novel characters with the "reveal" taking place at the Archaia panel during Comic-Con in a special photo-op ceremony. Winners will also receive an all-expenses-paid trip to San Diego to attend the 2011 Comic-Con International. The package includes airfare, hotel accommodations, and exclusive access to special

Immortals

events throughout the convention.

Entrants will share their reasons why they are the perfect candidate to become the Greek God (Apollo) or Goddess (Artemis) via the Facebook application form. The top-10 entries (five women and five men) with the most "Likes" at the end of the contest period will be asked to submit "authentic" audition tapes for the roles to Relativity Media. The film's celebrated Director Tarsem Singh will select his two favorites (one man, one woman) and they will be crowned the winners.

Relativity Media and graphic novel publisher Archaia Entertainment, LLC formed a publishing partnership to produce and publish a hardcover graphic novel anthology based upon Relativity's upcoming epic motion picture

Immortals,

which stars Henry Cavill (

Superman: Man of Steel)

, Luke Evans (

Robin Hood)

, Kellan Lutz (

Twillight)

, Isabel Lucas (

Transformers: Revenge of the Fallen)

, Freida Pinto

(Slumdog Millionaire)

, and Mickey Rourke

(Iron Man 2)

.

Archaia will release the

Immortals: Gods and Heroes

graphic novel in September, serving as a prelude to the 3D motion picture, which releases worldwide on November 11, 2011. The graphic novel will expand upon the film's key characters and events through a series of original tales written and illustrated by some of the top names in comics, including David Mack (

Kabuki

), Ron Marz (

Witchblade

), Dennis Calero (

Dark Tower

) and Ben Templesmith (

30 Days of Night

). The graphic novel will be published through Archaia's Black Label division, a publishing pipeline dedicated to working alongside creative professionals within the entertainment industry eager to launch and expand their brands in the publishing world.

Directed by Tarsem Singh (
The Cell, The Fall
) and written by Charles Parlapanides and Vlas Parlapanides,
Immortals

also
stars Stephen Dorff (
Public Enemies
) and John Hurt (
Hellboy
).

The 3D epic is produced by Gianni Nunnari (

300),

Mark Canton (

300),

and Relativity's CEO Ryan Kavanaugh (

The Fighter),

and will be distributed by Relativity Media worldwide. In the UK, Australia, and certain other territories, distribution is in association with Universal Pictures International. In
Immortals
, the ruthless King Hyperion (Rourke) leads his bloodthirsty army on a murderous rampage across Greece to find a deadly weapon that will destroy humanity. A mortal chosen by Zeus named Theseus (Cavill) must lead the fight against Hyperion and his evil army with the fate of mankind and the Gods at stake.

For more information on the contest, please visit:
www.fandango.com
www.immortalsmovie.com
www.facebook.com/immortals
http://twitter.com/ ImmortalsFilm
Related Articles:
Boom! and Archaia Unveil Signing Schedules for Comic-Con International
Archaia FCBD 2013 Offerings!
Archaia at New York Comic Con 2012
Archaia Announces New Distribution Deal with PGW
Archaia Announces 'Conspiracy of the Planet of the Apes' Prose Novel
Relativity Media, Archaia Entertainment, and Fandango Team Up For National Immortals Promotion
Archaia Entertainment Partners with comiXology to Launch Days Missing
Archaia preview : Mouse Guard: The Black Axe #2 (of 6)
Archaia preview : Days Missing: Kestus #5 (of 5)
Archaia Names Mike Kennedy as Publisher