Star Trek: The Animated Series
By Philip Schweier
April 16, 2012 - 09:50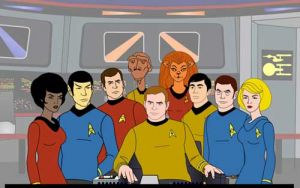 The crew of the animated Enterprise

In 1973, four years after Star Trek was cancelled by the NBC network, a new version of the series reunited the crew of the starship Enterprise. A half-hour animated version debuted on CBS on Sept. 8, 1973. Produced by Filmation, the series ran for two seasons, 22 episodes in all.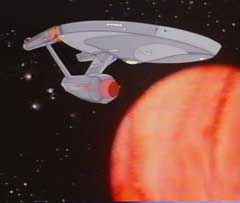 The animated enterprise in orbit

According the website danhausertrek.com, Lou Scheimer, an executive at Filmation, saw the potential in Star Trek as an animated series and approached Star Trek creator Gene Roddenberry. While the animation company came up with several ideas to make such a show more kid-friendly for the Saturday morning audience, Roddenberry had higher aspirations.

For the most part, the animated series is not regarded as part of the Star Trek canon. Some sources, such as IMDB.com, report that at the time, Roddenberry never expected the series to return in any form. As a result, he allowed the writing staff a wide latitude.

As consulting producer, Roddenberry brought long-time Star Trek producer D.C. Fontana on board. Under her guidance, a number of ambitious scripts were shepherded through the process of being made suitable for a 22-minute animated episode. Many were written by better writers than Saturday morning usually permits, such as science fiction author Larry Niven and veteran Star Trek scribe David Gerrold.

Actor Walter Koenig, who portrayed Ensign Pavel Chekov on the original series, also contributed a script. Though he wrote the animated episode The Infinite Vulcan, Koenig was not among the cast members to be reunited for the animated series.

According to IMDB.com, the series was originally going to feature only William Shatner, Leonard Nimoy, DeForest Kelley and James Doohan reprising their roles. Other supporting characters, such as Lt. Uhura and Lt. Sulu, were going to be recast. Allegedly, when Nimoy learned this, he held out, insisting Nichelle Nichols and George Takei be offered their original roles. One claim is that Nimoy felt their ethnic diversity contributed to the scope of Star Trek's philosophy. Nichols and Takei were cast, but budget constraints reportedly prohibited Koenig from being added to the animated series.

In his stead, a new character, Lt. Arex, was created. Arex, a member of the Edoan people, was a skeletal figure with reddish skin and six limbs. Another new crew member was Lt. M'Ress, voiced by Majel Barrett. A secondary communications officer, she was feline in appearance, as a member of the Caitian race.

Otherwise, all of the original cast was brought back to reprise their respective roles, as well as play additional characters as needed. Doohan, who was capable of a variety of accents, provided many voices, including that of Lt. Arex. Barret voiced many female characters.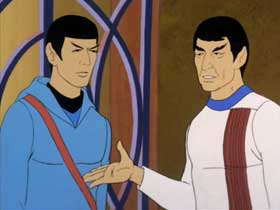 Sarek welcomes an incognito Spock into his home

Other familiar voices appeared as guests in some episodes. The second in the animated series, Yesteryear, saw Spock journey back in time to his boyhood on Vulcan. Mark Lenard reprised his role from the original series as Spock's father, Sarek. Two other actors, Roger C. Carmel and Stanley Adams, repeated their roles as Harry Mudd and Cyrano Jones, respectively.

One of the benefits of the animated series was it permitted a much wider scope of design and special effects. Many designs, such as ships and costuming, were very consistent with that of the original series. However, some elements were conceived out of convenience. One example is the life support belts used by crewmembers. Rather than wear some form of environment suit, the belts generated a yellow protective force field around the person. This permitted the animators to re-use established character designs, and sometimes stock footage. Given the shows budgets of upwards of $75,000 per episode, such shortcuts were often necessary.

In fact, Filmation was notorious throughout the 1970s for re-using stock footage on many of its productions. In the case of Star Trek, there were some shots in which animators failed to remove a character from a scene. For instance, there are a couple of scenes in which a crew member is on a planet's surface communicating with the bridge of the Enterprise, only to be shown on the bridge in the next shot.

Nevertheless, the series won an Emmy Award for Best Children's Program in 1974.

Though Roddenberry did not regard the animated series as part of Star Trek canon, many elements were later picked up, most notably Captain Kirk's middle name (Tiberius), revealed by Gerrold in his script, Bem. A second season episode, The Practical Joker, introduced the recreation deck, a holographic room capable of creating any kind of environment desired. This later became a popular setting on Star Trek: The Next Generation.

The scripts of the animated series were collected and adapted by writer Alan Dean Foster, published as a 10-book "Log" series in the 1970s.

While the many novels published over the years have never been declared to be part of the Star Trek Universe or not, popular Star Trek author Peter David incorporated Lt. Arex and Lt. M'ress into his stories.

Now, almost 40 years later, the series still holds up in some ways, but not in others. It was typical Saturday morning fare for its time, but the cast and writers of the series deserve some credit for attempting to maintain the quality of the original series – which admittedly was uneven – in a rather limiting format.

Images courtesy of startrekanimated.com. For lots more on the animated Star Trek Series, visit Kail Tescar's website.

Praise and adulation? Scorn and ridicule? E-mail me at philip@comicbookbin.com
Related Articles:
Star Trek: Waypoint TPB comics review
Star Trek Into The Darkness Trailer
Star Trek The Next Generation: Hive #1 Review
Star Trek: The Next Generation/Doctor Who Assimiltion #4 Review
Star Trek: The Animated Series
Paramount Digital entertainment unveils Star Trek
Star Trek Captain's Log iPhone Communicator App Now Available
Star Trek: Alien Spotlight: Q
Star Trek: Intrepid - Episode 4 - Transitions and Lamentations
Star Trek: Intrepid - Episode 3 - Turning Point