Review: Gears of War Judgement
By Sean Booker
March 26, 2013 - 10:21
Studios: People Can Fly
Rating: M (Mature)
Genre: Third-Person Shooter
Platform: Xbox 360
Players: 1-4 (16 online)
Set before the events of the Gears of War trilogy, Gears of War Judgement finds some of Delta Squad on a mission that, though adding some fun twists, is largely forgettable. Despite not adding anything to the greater fiction, Judgement brings with it some new features and additions that are definitely welcomed. The inclusion of Declassified objectives in each of the game's - albeit short - campaign stages are great and the loss of Horde mode is nearly remedied by the new Survival mode option. The game holds up nicely but feels a bit like a stand-in to a the next. more important Gears of War title.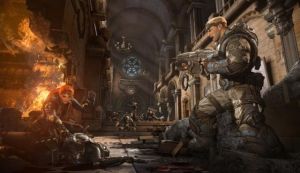 For the most part Judgement's story and relevance in the franchise is completely uninteresting. You play as Baird and Cole from the primary trilogy before the events of Delta Squads formation. The game takes place through a series of flashbacks that your group is retelling in a prosecution from your commander. Due to the retelling nature of this, it causes of lot of the danger to be removed since no serious complications can happen to your team. We can see they all made it to this hearing. The entirety of the story itself is very bland: there is a big bad guy, your team wants to kill him. The story you'll play through also doesn't add anything to the overall Gears of War fiction and causes the - already - short campaign mode to feel that much more shallow. This causes the game to feel like it was made for little more than to just tie fans over until the next big installment in the Gears of War fiction comes out.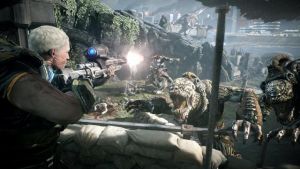 This isn't to say that Gears of War Judgement isn't a fun game; the opposite is far more true. Any fans of the franchise will be getting the exact feel they've come to know and it's a formula that continues to work well. Judgement changes some of the button layout to be more familiar and similar to other shooters in order to help bring in new players. You'll spend your time running through a series of great looking abandoned cities while you dodge and jump your way around enemies and into cover with up to three additional friends in co-op. And a number of newly added weapons allow for some fun and gruesome experimentation.
Anything you do in the campaign will add to your overall ranking level that helps dictate where in the online multiplayer you'll be placed. This allows for you to try out different techniques throughout the story to ensure a higher experience boost. It also helps add meaning to every component of the game since every playable mode works towards this grand level. This is a great feature since playing well in any part of Judgement means you will be matched up with similarity skills opponents online.
Probably the most interesting inclusion is a series of Declassified objects throughout the game. These are optional goals that can be activated at the beginning of each level. Declassified missions range from only being able to use two specific weapons, to removing health regeneration and adding a countdown timer to the stage. These were easily my favorite part of Judgement and opting to include them in every level added a great challenge and caused me to play with new weapons and playstyles I wouldn't normally approach. And a nice addition is that accepting these objectives will have your team comment on how they approached this new twist from a narrative standpoint. These add a really great level of variety to the game and restrict any part of the campaign's gameplay from becoming monotonous.
One of the more curious changes you'll find in Gears of War Judgement is that they removed Horde mode in place of a new option called Survival. Like Horde, five players will fight through a set number of enemy waves but unlike Horde's fifty stage max, Survival only has ten. What's different is that Survival is a class-based multiplayer mode; each player takes on a specific job role to help out the team. The classes are fairly standard and include an engineer, soldier, scout and medic. Each class can perform a number of different and unique functions to either help out the team or fight off the enemies. This new mode doesn't quite fill the gap that fans of Horde mode might experience, but it does add a fresh and very fun new take on the Gears of War co-operative multiplayer.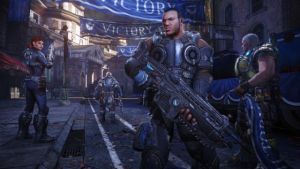 Gears of War Judgement adds a few small, but very cool elements to the franchise. Declassified objectives kept me on edge throughout the game and always had me wanting to see what would come next. And though I love Horde mode, seeing it replaced with the fun and interesting Survival mode was easily accepted. However, despite these key positives, it's a shame to see that the story is largely forgettable and easily the lowest part of Judgement. Despite being a lot of fun, Gears of War Judgement seems like it was designed as more of a placeholder and not a fully featured continuation.
Rating: 8/10
Related Articles:
Bluefin Announces "Gears of Wars" Action Figures
Review: Gears of War 4
Review: Gears of War Ultimate Edition
Review: Gears of War Judgement
Review: Gears of War 3
Review: Gears of War 2: All Fronts Collection
Gears of War Story Consultant Releases Fantasy Novel
Review: Gears of War 2
Gears of War 2 Launch Party Interview
Epic and Microsoft Release New Gears Of War 2 Videos