Heroes Con: Kirby Krackle
By Andy Frisk
June 11, 2010 - 22:54
Singer/Songwriter Kyle Stevens (also of Collider) and his co-conspirator Jim Demonakos (founder of Emerald City Comic Con and freelance editor, writer, and consultant) united to create the coolest band about the nerdiest things: comic books and video games. Christening their collaboration Kirby Krackle after the legendary comic book artist Jack Kirby's drawn sound affect; the guys have released two albums, and even played a show with Marvel Comics' Joe Quesada (who's quite the musician himself). At Hero's Con 2010, the guys graced their fans with a panel, which played more like an episode of Storytellers (of which Kyle is a professed fan—he referenced the show at the beginning of the panel). During the panel, Jim and Kyle talked with the crowd about the ideas behind their songs, their writing process, and why nerdy topics like video games and comic books are so cool. In between the discussions, Kyle played some acoustic versions of songs off of their self titled debut album and their second (and outstanding) album E for Everyone. The panel had the air of something special, and the guys demonstrated their wit, musicianship, humor, and passion for comics, music, and their fans. Jim and Kyle really have put together something cool and unique with Kirby Krackle and it showed.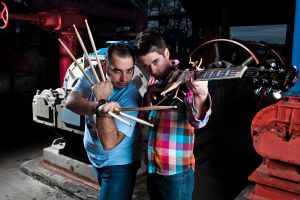 Jim opened the panel with a little background on the band and why comic book stories and characters in particular serve as the inspirations for their songs (beyond the fact that both are huge comic book fans). Jim quite accurately stated that the themes in comics are quite noble most of the time. Themes like acceptance, redemption, and doing the right thing even when it isn't easy to, are all worthwhile and inspirational ideals that Kirby Krackle tries to filter and relate through their songs. Pretty poetic and heady stuff…The guys aren't brooding Gen X'ers though (even if they are from the Mecca of Gen X music: Seattle). While they take their music seriously, they add way more than just a pinch of humor to their songs, and in person the guys are very humorous and amicable. They joked often and effectively about being "wordy guys" (their songs often have lengthy, complex, and wordy choruses and verses). During a performance of "Take It From Me" off of E for Everyone (my personal favorite song of theirs—a song Kyle readily admitted was inspired by Pearl Jam. He wrote it the day after attending a Pearl Jam show. I knew they had great taste in music!), Kyle harmoniously and humorously mouthed the electric guitar solo to great comic effect (a la Dave Grohl). Just before performing "Roll Over" (also off of E for Everyone), which a member of the audience described as a "very kick ass" song (I agree), Kyle stated that the song is an odd mixture of nursery rhyme, rap, and the story of a night of "debauchery with Saturday morning cartoon girls" that is "surprisingly not creepy." Laughter and claps rang out throughout the room. During his performance of "Great Lakes Avengers" (an hilarious song off of E for Everyone), Kyle's charisma and ability to connect with his audience with his performing ability and humor really brought the audience together and made us all feel like we were hanging out with a bunch of friends, telling stories and having a great time enjoying our favorite hobbies, comics, video games, and music.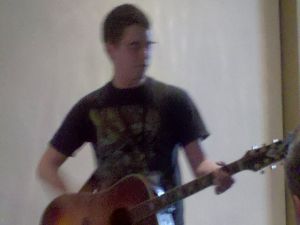 Speaking of stories, in between Kyle's performances (Jim admittedly doesn't play any music, but has a "weird ear for songs" and writes the lyrics), Jim elaborated more fully on their song writing process. He stated that their songs start with a chorus and that the goal of each song is to tell a story. For example, "One of the Guys," off of their debut album, is about Ben Grimm and his progression as a character from being a bit of an outcast because of his unsightly and rocky appearance (Grimm is The Thing for those of you who aren't Fantastic Four fans) to finally being "one of the guys" as he learns to accept his appearance, and finds camaraderie with his fellow superheroes. Jim admitted that he and Kyle are "totally Marvel guys," but one of their standout songs and singles from E for Everyone, "Ring Capacity" is about the Green Lantern Corps, of which both are also fans. Being "Marvel guys" though, it is simply natural that most of their songs are about Marvel Comics characters and themes. Jim added that to write a full song and make it effective as a song, you "have to have something to say." He and Kyle are also Star Trek fans for example, but don't have a fully written song about Star Trek simply because they don't have enough to say about it to effectively write a full song about it. Anyone who's ever indulged in the creative process of writing songs, poems, stories, comics, or even reviews or commentaries on songs, poems, stories, or comics knows this to be a fundamental truth about the creative process.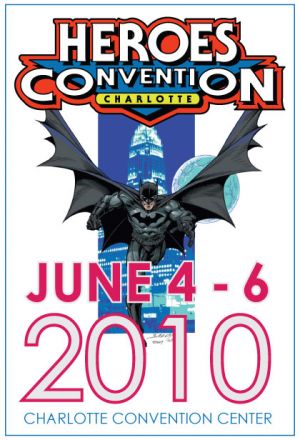 I've been to plenty of comic book conventions and rock concerts, but have yet to have attended a panel (or any type of gathering) that so seamlessly and inspirationally combined these two great loves of mine. Also, I've never attended a panel as fun, interactive, and enjoyable as the Kirby Krackle "Storytellers" Panel was. Having Kirby Krackle at Heroes Con 2010 was a testament to the great atmosphere of what is truly one of the best comic book conventions in the US. For three days every year Heroes Con puts on a great show, and Kirby Krackle simply helped take Heroes Con 2010 to the next level with their panel and performance. I'm already looking forward to next year's show and even more so to hearing more from Jim and Kyle.

for more info on Kirby Krackle, and to see their first video (!) visit: http://www.kirbykracklemusic.com/
Related Articles:
Heroes Con: Kirby Krackle
Kirby Krackle: E for Everyone