Mixed Vegetables: Volume 4
By Leroy Douresseaux
May 29, 2009 - 09:28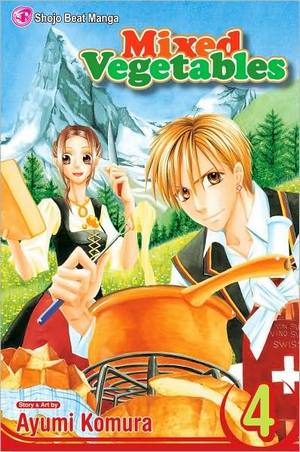 Mixed Vegetables Volume 4 cover image is courtesy of barnesandnoble.com.
Rated "T" for "Teen"
Her father is a famous patisserie, but Hanayu Ashitaba wants to be a sushi chef. His father is a famous sushi chef, but Hayato Hyuga wants to be a pastry chef. Hanayu was going to use her time at Oikawa High School to romance Hayato and hopefully marry her way into a famous sushi family. Then, she really falls in love with Hanayu.
In Mixed Vegetables, Vol. 4, Hanayu makes a bet with Hayato. If she wins a radish-peeling contest, Hayato will tell her why he wants to be a pastry chef. However, the easily frustrated Hanayu is having a hard time matching Hayato's radish-peeling skills.
Next, the teen lovebirds learn that Isaki Ishinagi, a chef at the Hyuga family's restaurant, Sushidokoro Hyuga, was once also a student in Oikawa High's "Culinary Arts Program." He also had a crush on their teacher, Ms. Matsuzaka, but Hanayu and Hayato believe there is more to it than just puppy love. They play matchmaker with mixed results.
THE LOWDOWN: The seven delightful chapters contained in this fourth volume of Mixed Vegetables reveal how good creator Ayumi Komura is at depicting charming romances. The Ishinagi/Matsuzaka romance is just as appealing and engaging as this series primary love story, and in Vol. 4, we get generous and highly entertaining doses of both. Plus, the art is as super duper beautiful as ever.
POSSIBLE AUDIENCE: This startlingly, sweet-as-candy teen romance will delight shojo manga fans.
A-
Last Updated: January 24, 2022 - 11:00