Mixed Vegetables: Volume 3
By Leroy Douresseaux
March 28, 2009 - 08:01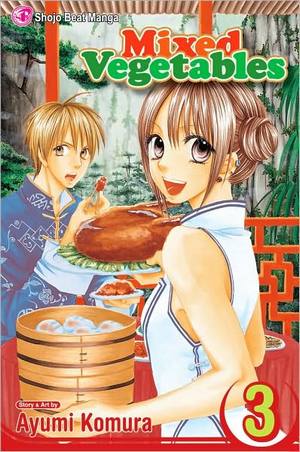 Mixed Vegetables Vol. 3 cover image is courtesy of barnesandnoble.com.
Rated "T" for "Teen"
Hanayu Ashitaba wants to be a sushi chef, although her father is a famous patisserie. Hayato Hyuga wants to be a pastry chef, but he is the son of a famous sushi chef. Hanayu was going to use her time in Oikawa High School's "Culinary Arts Program" to romance Hayato and to marry her way into a famous sushi family, but Hayato is genuinely in love with Hanayu. Now, the two work together to reach their cuisine dreams.
In Mixed Vegetables, Vol. 3, Hayato's father, Yakumo Hyuga, offers Hanayu the chance to train as a sushi chef at his shop, but first she must get permission from her father. Her father, however, won't hear of it, and Hanayu's dreams also seem to have put a crimp in the future plans of her younger brother, Natsume.
THE LOWDOWN: In the stories contained in this third volume of Mixed Vegetables, creator Ayumi Komura focuses less on the art of cooking and more on the art of the deal. Family, dating, and friendship are relationships that are enhanced or damaged by how one negotiates her desires in relation to what others want from her. Hanayu's dilemma and her dread about speaking to her father are genuine. I feel your pain, honey! Seriously, Mixed Vegetables is the kind of entertaining high school drama that certainly speaks to its young readers who likely identify with these characters.
POSSIBLE AUDIENCE: Beautifully drawn and heartfelt in its storytelling, Mixed Vegetables should appeal to fans of VIZ Media's "Shojo Beat" imprint of manga for young women.
A
Last Updated: September 6, 2021 - 08:15