Mixed Vegetables: Volume 1
By Leroy Douresseaux
August 23, 2008 - 15:33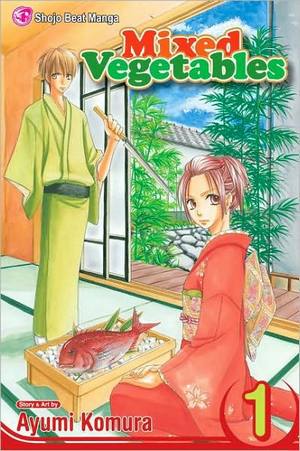 Thanks to barnesandnoble.com for the above image.
Rated "T" for "Teen"
Hanayu Ashitaba wants to a sushi chef, although her father is a famous patisserie. Hayato Hyuga wants to be a pastry chef, but he is the son of a famous sushi chef. While in Oikawa High School's "Culinary Arts Program," Hanayu has her eyes on Hayato; her goal is to marry him and thus marry into a famous sushi family. Hayato, however, is genuinely in love with Hanayu. Hanayu hopes that Hayato can understand her decision, but will guilt ruin her cuisine dreams?
THE LOWDOWN: Like the Yakitate!! Japan, the manga set in the world of competitive bread baking, Mixed Vegetables, Vol. 1 is a well-researched foray into the world of the culinary arts. The budding romance at the heart of Mixed Vegetables has an added bit of tartness, primarily because of Hanayu's ambivalence about the relationship when placed next to her fierce determination to be a sushi chef. The best thing about Mixed Vegetables, though, is manga-ka (creator) Ayumi Komura's pretty art with those gorgeous big-headed characters. This is light fare, with each chapter focusing on an obstacle that has something to do with school or Hanayu's doubts. Mixed Vegetables isn't standout material, but the handsome characters and culinary setting is a recipe for a happy, romantic dish.
POSSIBLE AUDIENCE: As Mixed Vegetables falls under VIZ Media's "Shojo Beat" imprint of manga for young women, it should appeal to that crowd.
B
Last Updated: September 6, 2021 - 08:15