Mistress Fortune
By Leroy Douresseaux
January 21, 2011 - 14:57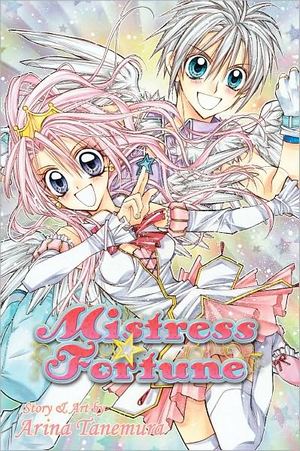 Mistress Fortuen cover image is courtesy of barnesandnoble.com.
Rated "T" for "Teen"
Mistress Fortune is manga from Arina Tanemura, the creator of Full Moon, The Gentlemen's Alliance †, and Time Stranger Kyoko, among others. This short series, which is comprised of three chapters and two bonus stories, focuses on two psychic-powered teens who fight alien invaders and fall in love.
Fourteen-year-old Kisaki Tachikawa has psychic powers. This middle school student also works for PSI, a secret government agency that fights aliens, which are called Ebe. Kisaki is in love with another middle school student, Giniro Hashiba. The 14-year-old boy also works for PSI, but their bosses won't allow operatives to get involved with each other personally.
Together, Kisaki and Giniro are the team called Mistress Fortune, and with Giniro by her side, Kisaki's powers grow stronger. She wants to get closer to him, but that may be impossible when Kisaki gets a new assignment.
THE LOWDOWN: Like any Tanemura manga, Mistress Fortune features the creator's trademark textured art, characters with super-pretty faces, lush toning, sparkle effects, and flower patterns. This time there is even a plush toy-like alien mascot. This Tanemura story features, as usual, positive upbeat characters: charming girls and the handsome boys they love. It is lighthearted fun as only Tanemura can do it.
POSSIBLE AUDIENCE: Fans of Arina Tanemura, teen and adult, will enjoy Mistress Fortune.
B+
Last Updated: August 31, 2023 - 08:12