Millennium Snow: Volume 4 manga review
By Leroy Douresseaux
December 3, 2014 - 19:39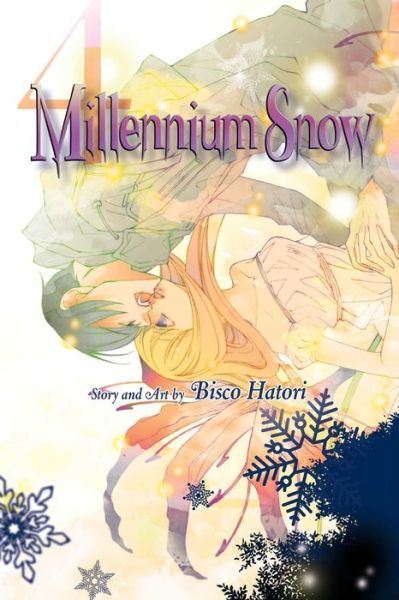 Millennium Snow Volume 4 cover image is courtesy of barnesandnoble.com.
Follow me on
Twitter
.
Rated "T" for "Teen"
Millennium Snow
focuses on 17-year-old
Chiyuki Matsuoka
. She was born with heart problems, and her doctors say she will not live to see the next snow.
Toya Kano
is an 18-year-old vampire who hates blood. He also refuses to make the traditional, symbiotic partnership with a human, whose life-giving blood would keep them both alive for a thousand years. Chiyuki has already told Toya that she likes him, but he hasn't yet agreed to make her his partner.
As
Millennium Snow

, Vol. 4
(Chapters 14 to 16 to Last Chapter) opens, Chiyuki, Toya, and their friends enter their last year of high school. Now, Toya faces the prospect of supporting himself for the rest of his long life.
Satsuki Ariyoshi
, the werewolf boy, may have a job for Toya at his family's shop,
Ariyoshi Goods
.
Meanwhile, an important figure from Toya's past returns, as we learn more about Toya's family. Then, a stranger arrives, and his story may be giving Toya second thoughts about Chiyuki.
THE LOWDOWN:
The
Millennium Snow
manga was one of the first VIZ Media titles that I reviewed, and that was a little over seven years ago (!). This series is the creation of mangaka
Bisco Hatori
, who also created the hit comedy manga,
Ouran High School Host Club
.
Apparently, Hatori stopped producing new chapters of
Millennium Snow
after the episodes that were collected in the second volume of the graphic novel. At some point, she resumed work on the series. VIZ reprinted Volumes 1 and 2 in a 2-in-1 mini-omnibus edition around the time it also published new material in
Millennium Snow
Vol. 3.
Millennium Snow Volume 4
is the final volume of the series. Having read Vol.4, after only reading the first volume seven years ago, I thought that I might be confused by the final volume, especially considering that I had not read the second and third volumes. I was not.
Millennium Snow
is basically simple. Vampire guy does not want to bite human girl who loves him, although that will give both of them a long, long life. The romantic dilemmas and tension are built around him playing hard to get and her chasing him.
It works because Hatori depicts conflicts and struggles and feelings and emotions in a way that are universal to shojo manga. I enjoyed reading it because, even as a fantasy,
Millennium Snow
is heartfelt and feels genuine. I might even try to read the entire series at some later date.
POSSIBLE AUDIENCE:
Fans of Bisco Hatori and of shojo vampire romance will want to read
Millennium Snow
.
Last Updated: January 24, 2022 - 11:00