Mikansei No. 1: Volume 1
By Leroy Douresseaux
April 24, 2010 - 11:22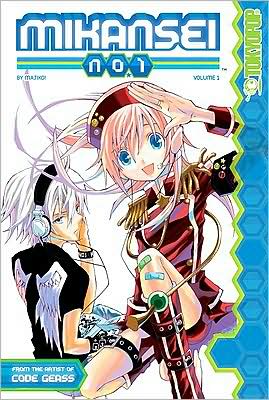 Mikansei No. 1 Volume cover image is courtesy of barnesandnoble.com.
Comedy/Fantasy; Rated "T" for "Teen-Age 13+"
In the 23rd century, Neo Takigawa stands out for all the wrong reasons. Girls are more modest than they are in the 21st century, and Neo's extra-short skirts bring her ridicule. Neo also wants to be a pop-singing sensation, but her constant singing annoys people. When an accident sends her back to the 21st century, Neo inadvertently falls in with another pop wannabe, Saya Kuduo, whom Neo calls "Sayaya." Now, they're a duo trying to get a recording contract.
In Mikansei No. 1, Vol. 1, Neo and Saya gain the attention of Ebisu, president of Ebisu Productions, a record label. The temperamental, afro-wearing music boss will give them a contract if they put on a successful concert in a local park, and they have three months to prepare for it. Also, Neo comes up with a name for their act, one Saya doesn't like. Meanwhile, has anyone in the 23rd century noticed that Neo is missing?
Although it is likely marketed at teens, Mikansei No. 1 is a kodomo manga (comics for children). I suppose that readers looking for shojo manga (comics for teen girls) will find something to like in this manga's screwball love story. However, its energy and the music dreams of the leads make Mikansei No. 1 as sweet as a pop confection, perfect for the Justin Bieber set.
B
Last Updated: August 31, 2023 - 08:12