Midnight Secretary: Volume 6 Advanced manga review
By Leroy Douresseaux
June 27, 2014 - 14:24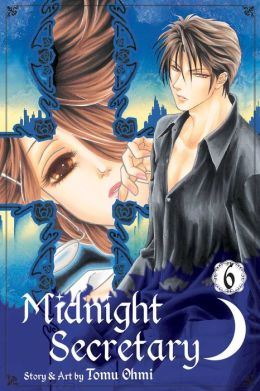 Midnight Secretary Volume 6 cover image is courtesy of barnesandnoble.com.
Follow me on Twitter.
Rated "M" for "Mature"
Kaya Satozuka is an excellent secretary and a consummate professional at Tohma Corp., a tableware manufacturer. When she is 22-years-old, Kaya is reassigned to the office of the company's difficult Managing Director, Kyohei Tohma. Kaya does not worry about her hard-to-please new boss; then, she discovers that Kyohei is a vampire.
Now, 23-years old, Kaya works full time at Lakes Venture Capital (LVC), a new investment company started by Kyohei. As Midnight Secretary, Vol. 6 (Chapters 26 to 30) opens, Kyohei has finally admitted that he loves Kaya, and he no longer feeds on other women. He makes love to Kaya, which makes her blood extra fragrant to him; then, he just makes love to her because she is his woman.
However, although they have worked out their personal issues, Kyohei and Kaya's dual role as boss/secretary and vampire/human presents problems that are seemingly difficult to overcome. Now, their families, friends, and colleagues are inserting themselves into the young couples' affairs, talking about arranged marriages… and a baby!
[This volume includes a bonus feature/story.]
THE LOWDOWN: The Midnight Secretary manga is an intriguing shojo vampire manga. Silly and playful, it presents a vampire/human romance that is a highly-enjoyable read.
Midnight Secretary Volume 6 brings intrigue in the form of Kaya and Kyohei's family, friends, and colleagues. It seems that the young couple has obligations not just to each other, but also to the other people in their lives. I have suspected that the supporting characters would be the ones that would bring an edge to this surprisingly soft-focused romance between a human and a vampire, and I was right. Creator Tomu Ohmi is taking the series to another level. Now, the sweet comes with the pungent, and I look forward to this series now more than ever.
POSSIBLE AUDIENCE: Readers looking for a unique shojo vampire romance will want to try Midnight Secretary.
Rating: A- /10
Last Updated: January 24, 2022 - 11:00