Midnight Secretary: Volume 4 manga review
By Leroy Douresseaux
March 5, 2014 - 11:43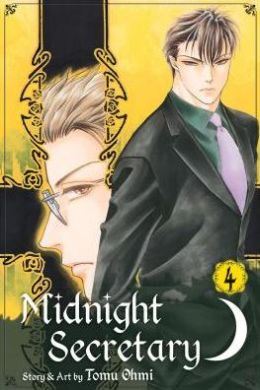 Midnight Secretary Volume 4 cover image is courtesy of barnesandnoble.com.
Rated "M" for "Mature"
Kaya Satozuka is an excellent secretary and a consummate professional at Tohma Corp., a tableware manufacturer. When she is 22-years-old, she is reassigned to the office of the company's difficult Managing Director, Kyohei Tohma. Kaya does not worry about her hard-to-please new boss; then, she discovers that Kyohei is a vampire.
Now, 23-years old, Kaya works at Erde, a subsidiary of Tohma Corp., but at night, she still works for Kyohei – both as a secretary and as a source of the "fragrant" blood for the sexy vampire. As Midnight Secretary, Vol. 4 (Chapters 16 to 20) opens, her boss, Yoshifumi Takasu, President of Erde, reveals that he knows of Kaya's moonlighting with Kyohei. President Takasu is not angry with Kaya; in fact, actually, he makes excuses to work closely with her.
Meanwhile, Kyohei has launched a new investment company, Lakes Venture Capital (LVC). He wants Kaya back, working for him full time. Now, there are two men fighting over her, Takasu and Kyohei. Which will she choose? Plus, Kaya learns more about vampire-human relationships, and she also meets the mysterious Marika.
THE LOWDOWN: The more I read of the Midnight Secretary manga, the more I like it. Yes, it is a bit silly, but it is also a silly and playful erotic vampire romance. Vampire + erotic: creator Tomu Ohmi had me at the first hint of vampires and sex.
Seriously, I like how Ohmi makes a concerted effort to make each chapter welcoming to new readers. Somewhere, usually early in each chapter, Ohmi subtly has Kaya Satozuka explain her situation with Kyohei Tohma, which essentially also updates the reader on the story. Midnight Secretary is not a difficult narrative to follow, so this moody, pop vampire tale is attractive.
Midnight Secretary Volume 4 also offers more information on the series' internal vampire mythology. Ohmi introduces new rivals for both Kaya and Kyohei's affections and a possible new ally for Kaya. This series is a typical young romance featuring a young woman chasing after a womanizer. This likely would not be a feminist favorite, but by the end of this, the plucky heroine will likely finish on top.
POSSIBLE AUDIENCE: Readers looking for a unique shojo vampire romance will want to try Midnight Secretary.
Rating: A- /10
Last Updated: August 31, 2023 - 08:12