Meteor Prince: Volume 1 manga review

By Leroy Douresseaux
January 27, 2015 - 20:57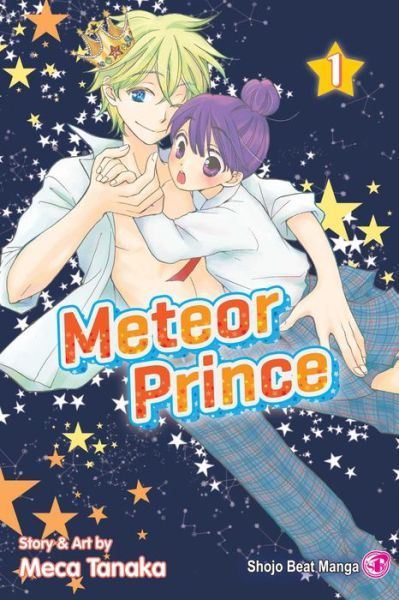 Meteor Prince: Volume 1 cover image is courtesy of barnesandnoble.com.
Follow me on
Twitter
.
Rated "T" for "Teen"
Meteor Prince
is a shojo fantasy romance from manga creator,
Meca Tanaka
. The series focuses on an unlucky teen girl and the handsome alien prince who is totally in love with her.
Meteor Prince

, Vol. 1
(Chapters 1 to 5) opens at
Izayoi High School
. There,
Hako Natsune
, the "Queen of Bad Luck," has just had another experience of bad luck. The president of the school's
Occult Research Club
has drawn a spell circle, and is hoping to use it to rid Hako of her bad luck.
Instead, a naked teen boy seems to fall from Heaven. He is
Io
, an alien prince, and he declares that Hako is destined to be his mate! Does this mean that Hako's luck has changed?
THE LOWDOWN:
The
Meteor Prince
manga seems like a natural comic for me. Since I was a child, I have loved comedies featuring aliens who come to Earth (and also of comedies about humans whisked into space). I was a fan of "My Favorite Martian," a short-lived, Saturday morning animated series that was a follow-up of the live-action, "My Favorite Martian," a classic, black and white series from the "Golden Age" of American television.
So I should really love
Meteor Prince
, but I am not that crazy about it. It isn't bad. It is simply one of those shojo fantasy romances that feature pretty art and are built around the familiar loves-me/loves-me-not relationship between a human girl and a boy who is not human. While I like shojo manga (to an extent that still surprises me), I find myself only mildly interested in
Meteor Prince
. Late in this volume, a new character appears that brings some added conflict and dilemma into the series. So I am curious to see if the second volume is more of the same or if it will offer some surprise and perhaps, some more tension.
POSSIBLE AUDIENCE:
Fans of shojo sci-fi/fantasy romance will want a visit from the
Meteor Prince
.
Rating: B- /10
Last Updated: August 31, 2023 - 08:12