Comics / Manga / Yaoi Manga
Men of Tattoos (Yaoi)
By Leroy Douresseaux
November 17, 2011 - 06:35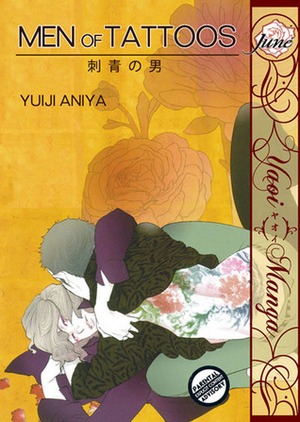 Men of Tatttoos cover image is courtesy of Anime Castle Books.
Drama/Romance; Rated "18+ Mature"
Men of Tattoos is a yaoi manga short story collection by Juiji Aniya. Four of the stories are connected and form a story arc involving a detective and various yakuza figures. The last two stories are about two friends who are in love with one another, but only deal with that love in their fantasies.
In "My Katagi-kun," Kubota always takes care of his Yakuza pal, Kiyotsugu Katagi, but Kubota has two surprises for his pal. One surprise feels great; the other is pure trouble. Meanwhile, Yakuza bodyguard, Mitou, takes care of his gang boss' son, the Young Master, but the Young Master loves Mitou. Will they find love or death?
In "The Springtime of Love," 20-year-old Mitsuhisa Ahna is secretly in love with his friend, the lady killer, Haruno. Unable to tell Haruno how he feels, Ahna finds a surrogate upon which to exercise his passion. In "The Path of Our Dreams," Mitsuhisa's sex proxy has a surprising effect on Haruno.
The title, Men of Tattoos, refers to the underworld types, who with their tattooed backs populate this collection's first four stories. These characters, as are all the characters in these stories, are quite interesting. Their relationships and conflicts are edgy and would make for good drama. Unfortunately, creator Yuiji Aniya merely delivers violence drawn in smoky and impressionistic art (think a blurry take on Carla Speed-McNeil of Finder). There is explicit sex, so this yaoi, but it is hard to see the sex in the convoluted art. Ultimately, this story is really about stylish violence, more so than it is about storytelling and character.
The Ahna-Haruno stories are the best of Men of Tattoos. Funny and imaginative, they really delve into physical and sexual yearning, but their twist on self-pleasure is a delightful concept. As an artist and graphic storyteller, Aniya really shows her skills in compositions, design, and style in the last two stories. These two stories could be retold with new characters, and I hope that happens, if not by Ahna, then by someone else. I don't know, however, if two stories alone are worth the $12.95 cover price.
C+
Last Updated: August 31, 2023 - 08:12