Comics / Manga / Yaoi Manga
Maybe I'm Your Steppin' Stone: Loveliness (Yaoi)
By Leroy Douresseaux
Aug 30, 2008 - 15:22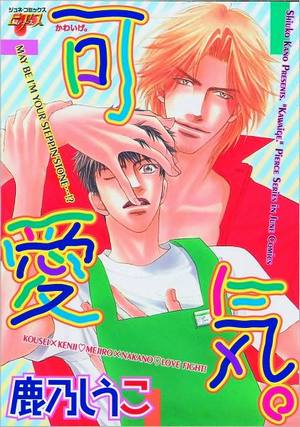 801 Media's editon keeps the cover image from the original Japanese edition, but adds English cover copy.
"18+ Mature Content"
Maybe I'm Your Steppin' Stone: Loveliness is a follow up to the yaoi manga, I'm Not Your Steppin' Stone: Shameless by creator Shiuko Kano. Both of these yaoi titles (boys' love manga with explicit depictions of sex between male lovers) follow the sexual antics of a group of tall, lean, muscular, and well-endowed scaffold construction workers.
Mogi Kousei is a 27-year-old, divorced father of a small boy. Hirose Kenji is a convenience story clerk who dotes on his young niece. The children being at the same pre-school offer the two men an entry into a passionate relationship of hot, rape-like sex. Meanwhile, two of Kousei's employees: tall, dark and handsome Shunji Nakano and blond bombshell Mejiro Yasushi can't stop "bumpin' uglies," in acts of lovemaking that look like Greco-Roman wrestling.
THE LOWDOWN: Yaoi manga is apparently created by women for women, but Maybe I'm Your Steppin' Stone is for gay men. It's like a porno movie, but with two storylines and actual character drama. Anyone who has seen gay pornographic movies or seen gay porn magazines or gay erotic photography will recognize the sterling physiques of these young male characters – the haircuts that must cost a few hundred dollars each; the cut, muscular bodies, the handsome boyish faces, and the obligatory perfectly formed man-flesh.
Shiuko Kano is good at drawing pretty men; if this art were photography, I'd claim some airbrushing was involved. However, Kano draws unattractive, awkward looking women. The story and characters are actually quite engaging, but Kano puts them in second place behind the need for sex scenes, of which there seems to be at least one every ten pages.
POSSIBLE AUDIENCE: Fans of gay pornography will delight in Maybe I'm Your Steppin' Stone: Loveliness.
B-
Last Updated: Jun 26, 2018 - 9:28