Master Keaton: Volume 1 manga review

By Leroy Douresseaux
January 6, 2015 - 22:37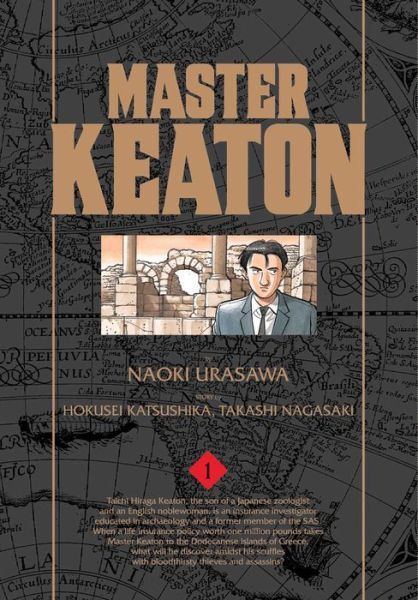 Master Keaton Volume 1 cover image is courtesy of barnesandnoble.com.
Follow me on
Twitter
.
Rated "T+" for "Older Teen"
Master Keaton
is a suspense manga and was one of the early works of award-winning mangaka (creator)
Naoki Urasawa
. First published in the late 1980s,
Master Keaton
was created and drawn by Urasawa, who co-produced the story with
Hokusei Katsushika
and
Takashi Nagasaki
. The series had never been released in English until recently.
Now, VIZ Media is publishing
Master Keaton
as a 12-volume manga in a deluxe graphic novel format, with each volume including a few pages of full-color material to go along with the black and white comics. VIZ Media's first volume of
Master Keaton
was published this past December (2014), and future volumes will be published quarterly under the company's VIZ Signature imprint and will be rated "'T+' for Older Teens." Each volume of Master Keaton will carry an MSRP of $19.99 in the United States, $22.99 in Canada, and £12.99 in the United Kingdom.
Master Keaton
focuses on 30-something
Taichi Hiraga Keaton
. The son of a Japanese zoologist and English noblewoman and mathematician, Keaton is an archeology professor at
Kotozawa University
. Most of the series' action focuses on Keaton's other job. He is a part-time insurance investigator known for his successful and unorthodox methods of investigation. His abilities are based on the fact that he is Oxford-educated in archeology and that he is also a former member of the British elite special forces, the SAS (Special Air Service). Master Keaton uses his knowledge and combat training to uncover buried secrets, thwart would-be villains, pursue the truth, and sometimes lend a helping hand.
Master Keaton

, Vol. 1
(Chapters 1 to 12) opens with the death of
Leon Pappas
near the village of
Isidoros
, on the
Dodecanese Islands
in
Greece
. Pappas had an insurance policy worth one million pounds with Lloyd's of London. In Essex, England,
Lord David Marques
, the policy's underwriter, is suspicious both of the circumstances of Pappas' death and of his insurance policy's beneficiary,
Ochs Fine Art Ltd
.
Enter Mister Keaton, part-time insurance investigator. Lord Marques wants him to investigate everything dubious surrounding Pappas, his death, and his connection to a mysterious art dealer. Pappas was an amateur archeologist and that angle piques Keaton's interest, so he accepts the assignment and heads to the Dodecanese Islands. But danger and the threat of death await him.
THE LOWDOWN:
Anyone who reads my reviews on a regular basis knows that I am a huge admirer of Naoki Urasawa, some might even say raving fan boy. He is one of my favorite mangaka, and I think that he has been one of the best and most intriguing comics creators over the last four decades.
I like
Master Keaton
. It is not as obsessively connected, in terms of plot, characters, and settings as such Urasawa classics as
20th Century Boys
and
Monster
. Keaton does have a revolving set of characters, such as his father, his daughter, and his agent. His SAS training frequently plays a part in the stories, as does his positions as an academic and an archeologist.
The stories in
Master Keaton
are episodic. In
Master Keaton Volume 1
, almost every chapter offers either a new case which Keaton must tackle or a glimpse at Keaton's personal life. There is one story that runs over two chapters (about a joint Japanese-British archeological dig in a
Uyghur
region of China). Vol. 1 ends with a three-chapter story of a former SAS officer coming to the end of a complicated and dangerous plot for revenge.
I enjoyed just about every story in Vol. 1, but I have to admit that I was shocked by the episodic nature of this series. I was disappointed when the tale of Leon Pappas, which opens this graphic novel, was wrapped up in one chapter. Once I adjusted to how Urasawa and his writers present the adventures of Mister Keaton, I found myself fascinated by this thoroughly fascinating character. I would say that
Master Keaton
is another Urasawa series that is a must-read.
POSSIBLE AUDIENCE:
Fans of Naoki Urasawa will want to read the VIZ Signature series,
Master Keaton
.
Rating: A /10
Last Updated: August 31, 2023 - 08:12