Marvel Studios and FX Scratch Each Other's Backs
By The Editor
March 20, 2008 - 05:11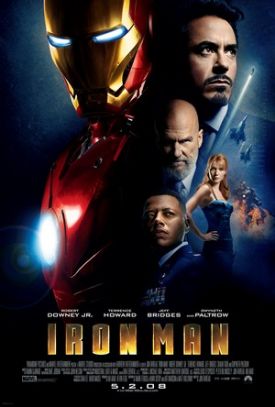 Iron Man one-sheet
Marvel Studios Enters into Free TV Rights Deal with FX for Marvel's Self-Produced Movies
Upcoming Marvel Films IRON MAN and THE INCREDIBLE HULK are First in Five Picture Agreement
Marvel Studios, a subsidiary of Marvel Entertainment, Inc. (NYSE: MVL) has entered into its first basic cable distribution relationship for its self-produced movies through an agreement with FX. Under the terms of the five picture deal, Marvel Studios will provide FX with the rights to five of the studio's upcoming feature films including this summer's highly-anticipated Iron Man and The Incredible Hulk, with the remaining films to be named by Marvel at a later date. The pact also includes significant FX marketing commitments in support of each film's theatrical release. David Maisel, chairman of Marvel Studios, and Chuck Saftler, executive vice president of FX Networks made the announcement today.
"FX is a great home for Marvel Studios' movies," said Maisel. "Chuck; FX President and General Manager, John Landgraf, and his team have a strong understanding of the unique appeal of Marvel movies. This deal is a great vote of confidence for not only Iron Man and The Incredible Hulk, but the overall launch of the new Marvel Studios."
Iron Man arrives in theatres in North America on May 2, 2008. Marvel Studios' The Incredible Hulk will be released on June 13, 2008.
The agreement with FX does not include broadcast television rights, Canadian rights or the second free TV window.
IRON MAN Background
Marvel Studios' big screen adaptation of Marvel's legendary Super Hero Iron Man will launch into theaters on May 2, 2008. Oscar® nominee Robert Downey Jr. stars as Tony Stark/Iron Man in the story of a billionaire industrialist and genius inventor who is kidnapped and forced to build a devastating weapon. Instead, using his intelligence and ingenuity, Tony builds a high-tech suit of armor and escapes captivity. When he uncovers a nefarious plot with global implications, he dons his powerful armor and vows to protect the world as Iron Man. The film also stars Oscar® winner Gwyneth Paltrow and Oscar® nominees Terrence Howard and Jeff Bridges and is directed by Jon Favreau. The movie is being distributed by Paramount Pictures.
THE INCREDIBLE HULK Background
Marvel Studios' THE INCREDIBLE HULK kicks off an all-new, explosive and action-packed epic of one of the most popular superheroes of all time. In this new beginning, scientist Bruce Banner (Edward Norton) desperately hunts for a cure to the gamma radiation that poisoned his cells and unleashes the unbridled force of rage within him: The Hulk. Living in the shadows -- cut off from a life he knew and the woman he loves, Betty Ross (Liv Tyler) -- Banner struggles to avoid the obsessive pursuit of his nemesis, General Thunderbolt Ross (William Hurt), and the military machinery that seeks to capture him and brutally exploit his power. As all three grapple with the secrets that led to The Hulk's creation, they are confronted with a monstrous new adversary known as The Abomination (Tim Roth), whose destructive strength exceeds even The Hulk's own. And on June 13, 2008, one scientist must make an agonizing final choice: accept a peaceful life as Bruce Banner or find heroism in the creature he holds inside -- THE INCREDIBLE HULK. The movie is being distributed by Universal Pictures.
Last Updated: February 5, 2023 - 09:06