Marvel Comics Does Wizard of Oz
By The Editor
November 10, 2008 - 02:23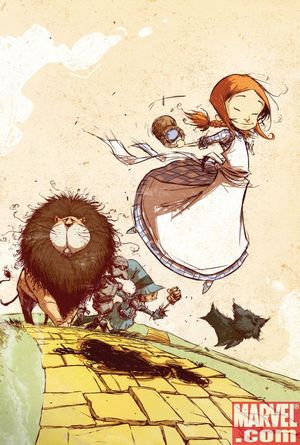 Skottie Young illustration for cover of The Wonderful Wizard of Oz #1.
The Wonderful Wizard of Oz Sketchbook Arrives In Stores—FOR FREE!
The great American classic The Wonderful Wizard of Oz is about to get the works-Mighty Marvel Style! And you can't afford to miss The Wonderful Wizard of Oz Sketchbook, in stores on November 5th! Get in on the ground floor with a unique inside look at the upcoming title brought to you by award winning scribe Eric Shanower (Age of Bronze) and fan favorite artist Skottie Young (New X-men)! This sketchbook includes fresh, new character designs of all your favorites from Dorothy and the Scarecrow to Toto himself-it's all here!
And don't forget about the creator commentary allowing fans a unique look into the world of Oz! Did we mention the best part? IT'S FREE!!
"Marvel is so excited about what Eric and Skottie have crafted that we wanted to give everyone a free look inside The Wonderful Wizard of Oz", said David Gabriel, Marvel's Senior Vice President of Sales. "This is one of the year's most exciting new projects and we wanted everyone to get a sneak peak before the first issue hits shelves."
See L. Frank Baum's beloved characters come to life in the way only Marvel can bring them! You don't want to miss the free The Wonderful Wizard of Oz Sketchbook! And, don't forget to check out December's The Wonderful Wizard Of Oz #1!

WONDERFUL WIZARD OF OZ SKETCHBOOK (AUG088194)
Cover by SKOTTIE YOUNG
All Ages …FREE!
On-Sale 11/05/08!
THE WONDERFUL WIZARD OF OZ #1 (of 8) (OCT082373)
THE WONDERFUL WIZARD OF OZ #1 (of 8) SHANOWER VARIANT (OCT082374)
THE WONDERFUL WIZARD OF OZ #1 (of 8) CAMPBELL VARIANT (OCT082375)
Written by ERIC SHANOWER
Pencils & Cover by SKOTTIE YOUNG
Variant Cover by ERIC SHANOWER
Variant Cover by J. SCOTT CAMPBELL
All Ages …$3.99
FOC—11/20/08, On-Sale—12/10/08
To find a comic shop near you, call 1-888-comicbook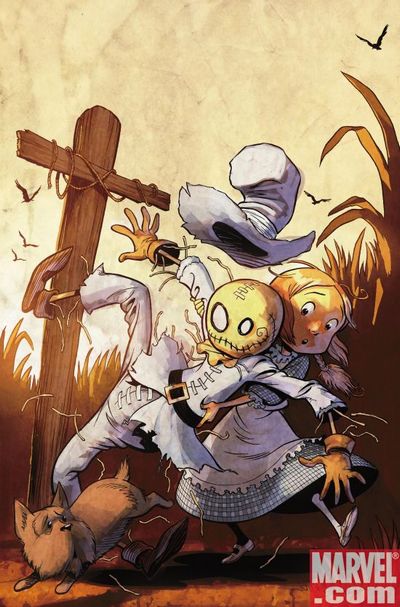 Eric Shanower illustration for The Wonderful Wizard of Oz #1 Variant Cover
Last Updated: September 6, 2021 - 08:15