Moon Knight See Return of Werewolf by Night
By The Editor
June 19, 2008 - 06:47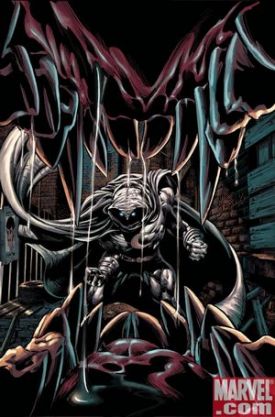 Moon Knight #20 cover
Moon Knight Steps into the Arena with Werewolf by Night!
Werewolf by Night is back and he's more gruesome than ever in a special extra sized issue-- prepare yourselves for the most ferocious, ruthless battle between man and beast in Moon Knight #20! After losing his registration privileges last issue, Moon Knight is now a wanted man and on the run. With nowhere to hide, Moon Knight has other problems he must face. Marvel's most fearsome monster is spilling blood and wreaking havoc on the streets of Moon Knight's city! Award winning television writer, Mike Benson ("Entourage"), pits Moon Knight against an opponent fueled by instinct and rage…Werewolf by Night! With visually striking interiors from fan-favorite artist, Mike Deodato (Amazing Spider-Man, New Avengers, Thunderbolts), Moon Knight will have to release his inner demons and become what he faces if he hopes to survive against Werewolf by Night!
"Since Benson took the reins, it has become one of the best written books on the shelves today," raves Kevin Powers of ComicsBulletin.com. "Benson knows these characters, and it really seems as though he is a natural when it comes to writing comics…if you aren't reading this book, start doing so and get the back issues, it's well worth the money."
"This has become one of Marvel's best books," said Greg Burgas of ComicBookResources.Com. "Benson has taken Huston's view of the character and expanded it, and the result is a gripping piece of pulp fiction."
Will Werewolf by Night take a bite out of Moon Knight? Grab your flashlights and silver bullets, True Believers, for this thrilling special double sized issue! Plus, Moon Knight's first appearance from Werewolf by Night #32 and #33! You can't dare to miss Moon Knight #20, with a battle so explosive that we had to make this an extra-sized issue!

MOON KNIGHT #20 (MAY082291)
MOON KNIGHT #20 SKETCH VARIANT (APR088266)
Written by MIKE BENSON
Pencils & Cover by MIKE DEODATO
Parental Advisory …$3.99
FOC—6/26/08, On-Sale—7/16/08

To find a comic shop near you, call 1-888-comicbook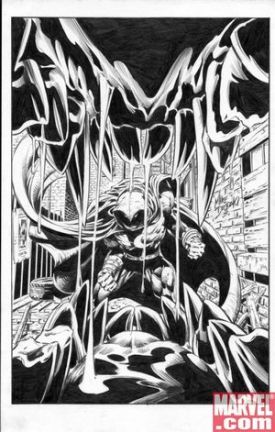 Moon Knight #20 Sketch Cover
Last Updated: September 6, 2021 - 08:15