Magneto Returns in X-Men Legacy #209
By The Editor
March 10, 2008 - 04:24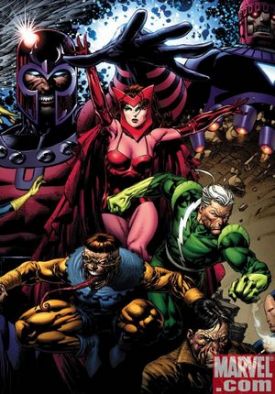 Cover
Magneto Returns as Xavier Clings to Life in
X-Men: Legacy #209
What could the Acolytes possibly want with the mind and body of Charles Xavier? Add Magneto's interest into the mix and that's a recipe for disaster! Xavier's life hangs in the balance as the quest to save the most important mind in mutant history begins. In X-Men: Legacy #209, from fan favorite writer Mike Carey and with rising star artists Scot Eaton and Billy Tan, and a cover by superstar artist David Finch, the quest for mutant survival barrels on!
Jesse Schedeen of IGN.com says, "Trust me, this is one X-book you'll want to keep on your pull list."
Marvel urges retailers to check their orders on X-Men: Legacy and all X-Men: Divided We Stand tie-ins, as the future of mutants in the Marvel universe is revealed and as critics continue to hail the current direction of the X-titles!
What sort of repercussions will there be as the journey into Professor Xavier's mind continues? Will the reveal of long lost memories and important x-facts be detrimental to the cause? Find out the answer to these questions and more in X-Men Legacy #209!
X-MEN: LEGACY #209 (DEC072220)
Written by MIKE CAREY
Penciled by BILLY TAN & SCOTT EATON
Cover by DAVID FINCH
Rated A…$2.99
FOC 3/6, On Sale 3/26/2008
To find a comic shop near you, call 1-888-comicbook
Last Updated: August 31, 2023 - 08:12