One-Shot Visits "Golden Age" Iron Fist
By The Editor
February 1, 2008 - 04:15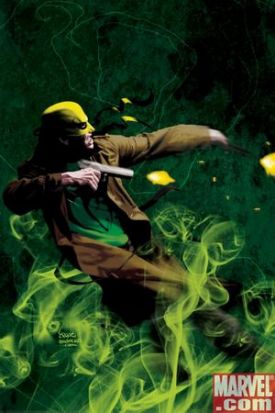 cover
The Immortal Iron Fist Faces The Green Mist Of Death!
Experience the kung-fu powered action thrill ride that Entertainment Weekly, WWE Magazine, Aint-It-Cool-News, IGN and more can't stop raving about in The Immortal Iron Fist: Orson Randall and The Green Mist Of Death! Red-hot scribe Matt Fraction teams with the all-star art team of Mitch Breitweiser, Chris Brunner, Russ Heath and Lewis Larosa, not to mention beloved cover artist Kaare Andrews! Featuring the Golden Age Iron Fist (Orson Randall) against the deadly Prince of Orphans, this is the battle that's echoed through the ages—and will affect the current Iron Fist, Danny Rand!
In the action-packed Immortal Iron Fist Annual #1, Danny Rand and readers alike discovered the truth behind the Rand fortune—so just what kind of explosive secrets will be revealed this time? One thing's for sure—you can bet your kicked butt that it'll reverberate through the pages of Immortal Iron Fist and impact the deadly kung-fu tournament currently unfolding!
"It's a cul-de-sac off of the main book in the truest sense-- there's a surprising reveal at the end of Immortal Iron Fist #12 and this special fills in how that came to be," Fraction teased. "Best of all, we get to tip our hats to the life and legacy of Mr. Bill Everett, to whom we are in tremendous debt."
Combine the red-hot Fraction with a bevy of the industry's best artists, add in a cup of suspense and a pinch of everything that is awesome about life, and you've got the extra-sized The Immortal Iron Fist: Orson Randall and The Green Mist Of Death. Suit up, assume the stance and get ready for the battle of your life as more secrets of Orson Randall's past are unveiled!

THE IMMORTAL IRON FIST: ORSON RANDALL AND THE GREEN MIST OF DEATH (DEC072185)
Written by MATT FRACTION
Art by MITCH BREITWEISER, MIKE ALLRED, NICK DRAGOTTA, RUSS HEATH & LEWIS LAROSA
Cover by KAARE ANDREWS
Rated T+…$3.99
FOC—1/31/08, On-Sale—2/20/08
To find a comic shop near you, call 1-888-comicbook
Last Updated: December 31, 2019 - 20:28