Hee-Jung Park's Martin & John: Volume 1
By Leroy Douresseaux
Jul 11, 2008 - 10:32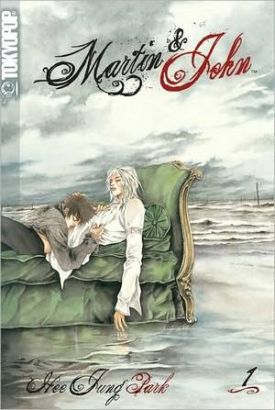 Thanks to barnesnandnoble.com for the cover image to Martin & John 1.
Rated "OT" for "Older Teen-Age 16+"
Martin & John is a manhwa (Korean comics) series about pairs of men, with one man named Martin and the other man named John. Created by Hee-Jung Park (Hotel Africa), Martin & John, Vol. 1 focuses on three Martins and three Johns, not all of them gay lovers.
The short story that opens this volume and acts as a thematic introduction finds a Martin & John in a master/slave relationship. Martin is a young man who chooses to abandon his humanity and accepts the status of pet to John in this tale set in a desolate future. Then, Martin Leroy deals with the aftermath of his lover John's death with the help of John's wife (!), Mari. Next, amateur musician John Hatch lives a carefree or careless life – depending upon the point of view. That changes when his estranged father's death drops a small boy into his life; the child named Martin Hatch is supposed to be John's brother, but it's going to get even more complicated than that.
THE LOWDOWN: While Hee-Jung Park's art style seems to favor copying the look and feel of fashion photography and magazine photo shoots, the art has a strong emotional quality that directly deals with the consequences of the choices people make in relationships. On the surface, it may seem that Park is focusing on the prettiness of romantic love, but underneath the glossy visuals, Park is going straight for the bittersweet and perhaps, the sometimes dark heart of relationships.
The strongest material in the book is the story about brothers John Hatch and Martin Hatch. It's potent and deeply personal and occasionally dark enough to make the reader uncomfortable. This story, which will continue in Vol. 2, is so riveting that I'm going to make darn sure I finish it.
POSSIBLE AUDIENCE: Martin & John is an adult drama for readers who want something deeper than standard afternoon or evening TV soap opera fare about relationships.
A-
Last Updated: Jun 26, 2018 - 9:28