March Story: Volume 5 Advanced manga review
By Leroy Douresseaux
March 15, 2014 - 17:17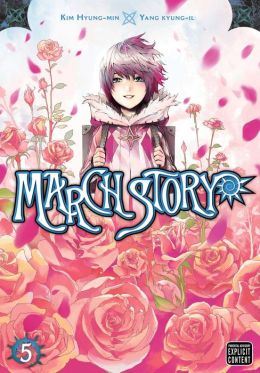 March Story Volume 5 cover image is courtesy of barnesandnoble.com.
Rated "M" for "Mature"
There are demons that hide in works of art and fine craftsmanship. They are called the Ill. When people touch such cursed objects, the Ill possess them, forcing them to commit horrific acts. In the 18th century, a group called the Ciste Vihad hunt the Ill. One of the hunters is March, a girl who pretends to be a boy and who also hides many secrets – including the Ill she harbors insider her body.
As March Story, Vol. 5 (Chapter 20 to Final Chapter) opens, the vengeful Ill, Janjaghee, kidnaps Rodin, the antique dealer whom March loves. Janjaghee had used the Cirque du Rouge as a front to kidnap young maidens so that she could steal their blood.
The fortune-teller, Jake, who is also the Ciste Vihad that saved March, decides to take the battle to Janjaghee. Meanwhile, Belma, the muscular and strapping Ciste Vihad who is also a chef, sees March being spirited away by a strange object. As for March, her powerful dark side is about to come forth, but will it be enough to stop the shockingly powerful Janjaghee?
THE LOWDOWN: It has been more than a year since the publication of the fourth volume of the March Story manga. March Story Volume 5 is the final graphic novel in the series and is truly worth the wait.
Writer Kim Hyung-Min and artist Yang Kyung-Il, two Koreans creating in the world of Japanese manga, have fashioned, in March Story, a series that could have run longer than its 24 chapters. This narrative brings the gothic horror aesthetic and the concept of crystalline beauty together and makes bloody murder and gruesome violence as pretty as pretty can be.
As I've written before, it would be unjust to not try at least one volume of March Story. Also, because the series only comprises five volumes, March Story is a beautiful thing made easy for all.
POSSIBLE AUDIENCE: Readers looking for creepy and beautiful will like the VIZ Signature title, March Story.
Rating: A /10
Last Updated: January 24, 2022 - 11:00