March Story: Volume 4 manga review
By Leroy Douresseaux
October 14, 2012 - 14:15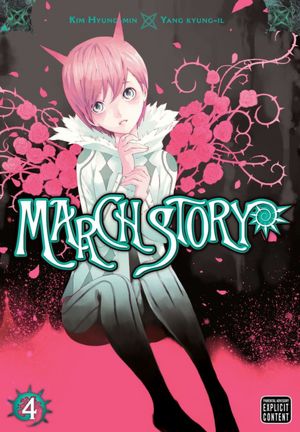 March Story Volume 4 cover image is courtesy of barnesandnoble.com.
Rated "M" for "Mature"
The Ill are demons that hide in works of art and fine craftsmanship. When people touch such cursed objects, the Ill possess them, forcing them to commit horrific acts. In the 18th century, a group called the Ciste Vihad hunt the Ill. One of the hunters is March, a girl who pretends to be a boy and who also hides many secrets – some of them dark.
As March Story, Vol. 4 opens, the Cirque du Rouge moves into the town of Zweimono. That's when the young maidens start to disappear. Meanwhile, an old acquaintance visits Rodin. Mistress Mornier, heiress of Count Viegel, wants Rodin to attend her birthday ball. March surreptitiously follows him to the fancy dress ball, but discovers that the event has also attracted a devilish guest with an insatiable thirst for the blood of young maidens.
Investigating, March soon finds herself involved with a mysterious woman named Lady Janjaghee, who is someone tied to March's past life and to her sister, Rasberry. Also, the hard knocks of Belma's youth are revealed. Belma is the strapping young man who owns an Italian restaurant and who is also a Ciste Vihad.
THE LOWDOWN: It has been a year since I read the third volume of the March Story manga. This fourth volume has the same thing that captures my attention, which the earlier three volumes offered – really beautiful art. I'm almost ready to believe that series artist, Yang Kyung-Il, is in possession of Ill-possessed drawing implements, because this art is unnaturally pretty. Kyung-Il's art is where textured inking, detailed line work, and lush, sparkling tones meet graphic, fashion, and architectural design.
Sometimes, when the art in a comic book is so good, all the story can do is try to match its beauty, but that is not the case here. The art feeds off writer Kim Hyung-Min's tales of love and loss, triumph and tragedy, and lust and revenge. Here, evil is all-consuming, and it does indeed rain on the just and the unjust. It would be unjust to not try at least one volume of March Story.
POSSIBLE AUDIENCE: Readers looking for gothic creepy and rococo beauty will like March Story.
Rating: A /10
Last Updated: August 31, 2023 - 08:12