March Story: Volume 2
By Leroy Douresseaux
April 21, 2011 - 14:17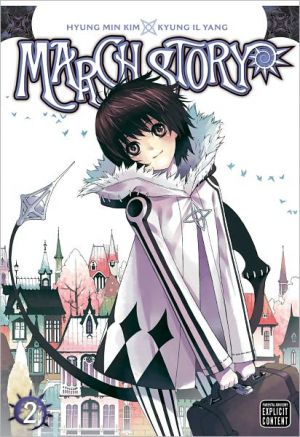 March Story Volume 2 cover image is courtesy of barnesandnoble.com.
Rated "M" for "Mature"
The Ill are demons that hide in works of art or works of fine craftsmanship. When people touch such cursed objects, the Ill possess these humans and force them to commit horrific acts. In the 18th century, a group called the Ciste Vihad hunt the Ill. One of the hunters is a boy named March, who hides many secrets – some of them dark.
In March Story, Vol. 2, March takes on the case of a butler and maid and an Ill-possessed staff, which leads to his first meeting with Belma, the brawny Ciste Vihad who owns an Italian restaurant. Next, a hairy case involves March's colleague, Rodin, a Ciste Vihad and antique dealer. Also, the story of a girl and her Ill who kill aristocrats reveals a mass murderer of children.
THE LOWDOWN: What I wrote about the first volume of March Story is still true. The most impressive thing about March Story is the beautiful art by Yang Kyung-Il, with its textured inking, detailed line work, and lush, sparkling tones. It is ornate like finely crafted jewelry and glasswork; the word "gilded" comes to mind.
This time around, the story is also golden. Writer Kim Hyung-Min continues to spin dark tales that are thoroughly gothic and violent. The stories in Vol. 2 are richer and more engaging because they get more into the characters, their histories and personalities. It's like a sparkling narrative of gorgeous art and gripping action/dark fantasy.
POSSIBLE AUDIENCE: Readers looking for gothic creepy and Gothic beauty will like March Story.
A
Last Updated: August 31, 2023 - 08:12