March Story: Volume 1
By Leroy Douresseaux
October 15, 2010 - 20:35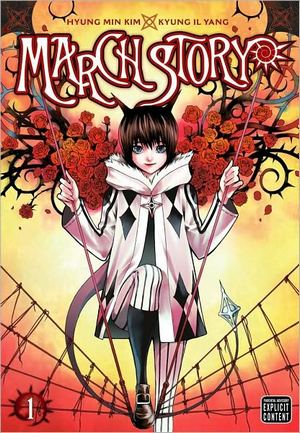 March Story Volume 1 cover image is courtesy of barnesandnoble.com.
Rated "M" for "Mature"
There are demons that hide in works of art and in works of fine craftsmanship. These demons are called the Ill. When people touch such objects, the Ill possess them and force them to commit horrific acts. In the 18th century, a group called the Ciste Vihad hunt the Ill. One of them is a boy named March, who hides many secrets – some of them dark.
In March Story, Vol. 1, March meets a girl who hates being a clown in her father's circus, a girl whose life may be made tragic by an Ill. Next, the rivalry and relationship between two young mask makers has been made more complicated by the Ill, and March must stop a masked serial killer plaguing Longbell, the city famous for its masquerade. Also, March's connection to his colleagues Rodin, the antique dealer, and fellow Ciste Vihad, Jake, is revealed in a haunting origin story.
THE LOWDOWN: The most impressive thing about March Story is the beautiful art. A combination of textured inking, detailed line work, and lush, sparkling tones, the art of March Story is as much fine art as it is graphical storytelling. Visually, the series has a Baroque sensibility steeped in Italian carnival costume and fashion. I think that artist Kyung Il Yang continues the tradition of superb manhwa artists (as far as my experience goes).
As for the narrative, March Story is thoroughly gothic and violent. Spilled blood is the lifeblood of this story, and revenge, retribution, and the need for justice drive the story from one chapter to the next. March Story looks as if the larger narrative involves March's history and the story's internal mythology. The rest of the series will feature March in vignettes that find the Ciste Vihad traveling Europe in search of Ill. March Story is a new series to watch because the creators mix the gruesome with such lavish backdrops and flashy costumes. That's going to be compelling… at least for a few volumes.
POSSIBLE AUDIENCE: Readers looking for gothic creepy and Gothic beauty will like March Story.
A-

Last Updated: January 24, 2022 - 11:00