Maoh: Juvenile Remix Volume 4
By Leroy Douresseaux
Feb 9, 2011 - 8:43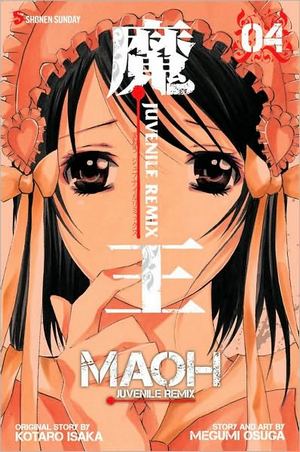 Maoh: Juvenile Remix cover image is courtesy of barnesnoble.com.
Rated "T+" for "Older Teen"
Inukai is a young man who believes that rapid modernization threatens his home, the city of Nekota. He has proclaimed himself an "agent of justice" and has stood up to oppose that progress. Inukai and his team of vigilantes, known as Grasshopper, protect Nekota's citizens from a rising wave of crime and also the machinations of greedy businessmen. Blessed (or cursed) with the ability to make people say out loud what he is thinking, Ando may be the only person who can stop Inukai.
In Maoh: Juvenile Remix, Vol. 4, Ando gets to see Inukai's powers of persuasion up close and personal. Semi the assassin returns – this time to protect the mayor of Nekota. Meanwhile, Ando befriends Anderson, whose father heads The Anderson Group, the organization behind the New Urban Center Project, which Inukai has targeted. And the drama and violence may have worn down Ando.
THE LOWDOWN: Like 20th Century Boys and Ikigami, Maoh: Juvenile Remix is steeped in conspiracies. Like those manga, Maoh pits ordinary people against the institutions, entities, and people hungry for power over and control of others. Even with the melodramatic subplots of everything from high school love to assassination, the story focuses on the hero dealing with his personal struggles while trying to uncover a larger and more wide-ranging truth. One may get the idea that the ultimate battle will be waged inside Ando, and Inukai and Grasshopper are merely one front in that war. That makes for an ambitious shonen worth reading.
POSSIBLE AUDIENCE: Readers who enjoy conspiracies will probably enjoy Maoh: Juvenile Remix.
A-

Last Updated: Jun 26, 2018 - 9:28