Maoh: Juvenile Remix: Volume 1
By Leroy Douresseaux
May 7, 2010 - 15:01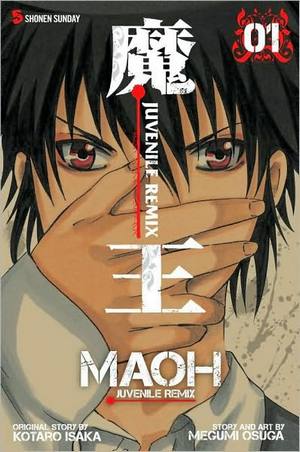 Maoh Juvenile Remix Volume 1 cover image
Rated "T+" for "Older Teen"
Rapid modernization threatens the city of Nekota. One young man, a self-proclaimed "agent of justice," has stood up to oppose progress. Inukai and his team of vigilantes, the Grasshoppers, protect the citizens from a rising crime wave and the machinations of greedy businessmen. However, a teen named Ando sees things differently. Blessed (or cursed) with the ability to make people say out loud what he is thinking, Ando finds himself tied to Inukai.
As Maoh: Juvenile Remix, Vol. 1 begins, Ando is struggling to accept his powers. Are they even real or is he hallucinating? Meanwhile, a rash of bullying turns into a rash of injured bullies, and Inukai may be behind this turn of events. Ando meets the now-legendary Inukai, but Ando cannot understand why he has misgivings about this local hero.
THE LOWDOWN: Although it has a near-future vibe, Maoh: Juvenile Remix is a potent mix of the high school drama and the urban thriller, but it also hints at being a mystery with far-reaching consequences. Megumi Osuga's graphic storytelling embodies some of the interesting vibes and moods from those genres and subgenres, although the art styling suggests a high school romantic drama. So this story looks strange, but the edginess is attractive, and at this point, Maoh: Juvenile Remix looks quite promising.
POSSIBLE AUDIENCE: Readers who enjoy 20th Century Boys and Ikigami will probably enjoy Maoh: Juvenile Remix.
B+
Last Updated: Jun 26, 2018 - 9:28