Maoh: Juvenile Remix Volume 3
By Leroy Douresseaux
Nov 11, 2010 - 10:27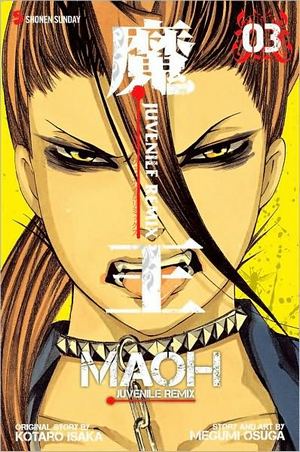 Maoh Juvenile Remix Volume 3 cover image is courtesy of barnesandnoble.com.
Rated "T+" for "Older Teen"
He believes rapid modernization threatens the city of Nekota, so one young man has proclaimed himself an "agent of justice" and has stood up to oppose progress. Inukai and his team of vigilantes, known as Grasshopper, protect Nekota's citizens from a rising wave of crime and the machinations of greedy businessmen. Blessed (or cursed) with the ability to make people say out loud what he is thinking, Ando sees it differently and finds himself both at odds with and tied to Inukai.
In Maoh: Juvenile Remix, Vol. 3, Ando has a confrontation, of sorts, with Inukai, after Ando foils an explosive Grasshopper publicity stunt. Meanwhile, new characters arrive on stage. There is a new student at Ando's school. His name is "Anderson" and he is caught up in the drama surrounding Inukai. A hornet also arrives on the scene, to take on Grasshopper, but Ando and fellow student journalist, Machiko, make also get stung.
THE LOWDOWN: The conspiracy shonen manga, Maoh: Juvenile Remix gets more exciting with just about every chapter. It mixes character drama and crime drama, which makes it as hot as a gritty big city, urban thriller. Some of the chapters in this volume of Maoh also offer the combat fun of a shonen fight comic, but the intrigue and conspiracy are so good here that the reader might not need the kick-ass aspect to enjoy the story. The series focus on vigilantism, youth violence, corporate wrongdoing, and the tension between collectivism and individualism, enough ideas to keep Maoh running for awhile.
POSSIBLE AUDIENCE: Readers who enjoy 20th Century Boys and Ikigami will probably enjoy Maoh: Juvenile Remix.
A-
Last Updated: Jun 26, 2018 - 9:28