Maoh: Juvenile Remix: Volume 2
By Leroy Douresseaux
August 10, 2010 - 07:17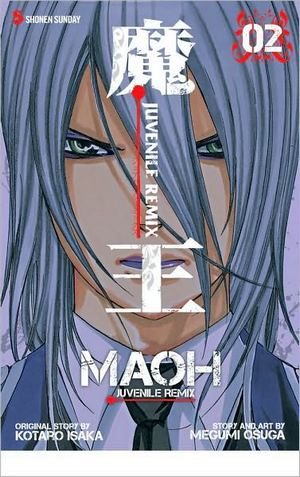 Maoh Juvenile Remix Volume 2 cover image
Rated "T+" for "Older Teen"
Because he believes rapid modernization threatens the city of Nekota, one young man has proclaimed himself an "agent of justice" and has stood up to oppose progress. Inukai and his team of vigilantes, known as Grasshopper, protect the citizens from a rising crime wave and the machinations of greedy businessmen. However, a teen named Ando sees things differently. Blessed (or cursed) with the ability to make people say out loud what he is thinking, Ando finds himself tied to Inukai.
In Maoh: Juvenile Remix, Vol. 2, Ando finds the assassin Semi (his name means "cicada") at his door. The talkative sort, Semi tells Ando that he has come to kill him. After a riot involving a motorcycle gang, the police arrest Inukai, and the city's criminal element takes advantage of that by trying to burn down the city.
THE LOWDOWN: Part near-future sci-fi and part conspiracy shonen manga (comics for teen boys), Maoh: Juvenile Remix is a smart urban thriller, the kind more likely to be seen on HBO or AMC than in American comic book shops. It's like the X-Men meets Michael Clayton. Maoh is an absolutely riveting read, and my initial hesitation about this series has been blown away by the whirlwind of twists and turns provided in this volume.
POSSIBLE AUDIENCE: Readers who enjoy 20th Century Boys and Ikigami will probably enjoy Maoh: Juvenile Remix.
A-
Last Updated: September 6, 2021 - 08:15