Man of Steel: The Fate of Krypton book review
By Leroy Douresseaux
June 18, 2013 - 17:07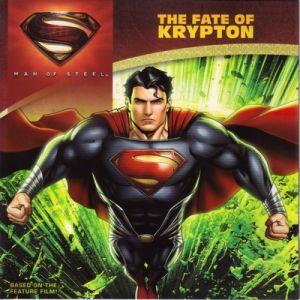 Man of Steel: The Fate of Krypton cover image
Ages: 4 to 8; Grades: Preschool
Superman created by Jerry Siegel and Joe Shuster
A division of HarperCollins Children's Books, HarperFestival recently released six books tying into the new Superman movie, Man of Steel. They are aimed at young readers – kindergarten and early elementary. That might be why I didn't know about them until I received a large envelope from HarperCollins last week. Inside were the six kid-oriented books of varying size.
Man of Steel: The Fate of Krypton is a 7.8" x 7.8", 24-page, paperback children's book. Part storybook and picture book, Man of Steel: The Fate of Krypton adapts some of the opening scenes of Man of Steel: Jor-El's clash with the Kryptonian council, Jor-El's return home, and Jor-El and Lara placing the infant Kal-El in the ship that would take him to Earth.
The story moves to Earth, where Jonathan and Martha Kent find the spaceship with a baby Kal-El inside. Of course, the Kents name the baby, Clark. Then, the story recounts young Clark Kent's childhood and later, his eventual discovery of his origins. The story wraps up by talking about why Clark became Superman.
As I did in my review of Man of Steel Reusable Sticker Book, I will assume that HarperCollins sent Man of Steel: The Fate of Krypton to me not so much to review it, as to just let people know that this book exists. Man of Steel: The Fate of Krypton is basically a children's book version of the sections of the Man of Steel film that deal with Superman's origins and childhood.
In case a young reader is confused by the sound and fury of the over-produced movie, he or she can turn to Man of Steel: The Fate of Krypton. Instead of the Michael Bay-inspired theatrics of Zack Snyder's film, The Fate of Krypton has the easy-to-understand-and-comprehend art of the talented Jeremy Roberts and John Sazaklis' brief but informative text. Man of Steel: The Fate of Krypton is a good companion to the movie, Man of Steel, and it is a good way to share Superman with a young reader.
Last Updated: February 5, 2023 - 09:06