Vampire Knights Memories manga review
By Leroy Douresseaux
August 9, 2017 - 06:59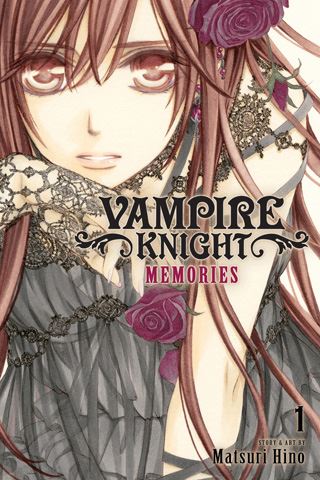 Vampire Knight: Memories cover image
Rated "T+" for "Older Teen"
Vampire Knight
was a vampire romance and shojo manga from creator
Matsuri Hino
. It was published in the magazine, LaLa, from 2004 to 2013. It was eventually collected in 19 tankōbon (similar to a graphic novel) and was also published in the United States (by VIZ Media).
The series was set in and around
Cross Academy
, a private boarding school with two classes: the Day Class and the Night Class. At twilight, the Day Class students returned to their dorm and crossed paths with the Night Class. They did not know that the Night Class students were actually vampires.
The series lead was
Yuki Cross
, the adopted daughter of school headmaster,
Kaien Cross
, but she later learned that she was also a pure-blood vampire. Her first love interest was
Zero Kiryu
, a human suffering from the curse of the vampire. Together, Yuki and Zero were the Guardians of the school, patrolling the hallways and school grounds to protect the Day Class humans from the Night Class vampires. Yuki eventually fell in love with
Kaname Kuran
, her fiancé who was raised as Yuki's sibling. At the end of Vampire Knight, Kaname sacrificed his body to create new vampire-killing weapons for the Hunter Society.
As
Vampire Knight: Memories

, Vol. 1
opens, a peace has been established between the Hunters and the few remaining vampires. Kaname continues to sleep in an ice coffin, and Yuki has given her heart so that he can be revived as a human. Yuki and Zero begin a new relationship. Yuki's birth daughter,
Ai
, and her adopted son,
Ren
, seek to learn more about Kaname. Memories contain four stories that tell about life during the 1,000 years of Kaname's slumber in an ice coffin.
THE LOWDOWN:
I was not crazy about the end of the Vampire Knight manga, especially the "death" of Kaname. In general, however, I really liked the series, and I enjoyed the prettiness of creator Matsuri Hino's art.
Vampire Knight: Memories Volume 1
contains four manga short stories: "Life," "I Love You," "Love's Desire," and "Between Death and Heaven." The most poignant segment of this volume is the "Seiren's Side Story" part of "Between Death and Heaven," which reiterates that while the vampire leads of this series are adorable, most other vampire characters are monsters.
If I understand correctly, there will be more of these "Memories" stories, which I hope is the case. A lot happens in a thousand years, and there are a number of shocking deaths and demises in the stories of Memories Vol. 1 that need some narrative expanding. These four stories are, for the most part, a really good addition to Vampire Knight, and I think fans will want to read them and want to read more.
I READS YOU RECOMMENDS:
If you loved Vampire Knight, you may want the Shojo beat title,
Vampire Knight: Memories
.
A-
7.5 out of 10
Rating: 7.5 /10
Last Updated: August 31, 2023 - 08:12