Magi The Labyrinth of Magic: Volume 25 manga review
By Leroy Douresseaux
November 21, 2017 - 23:31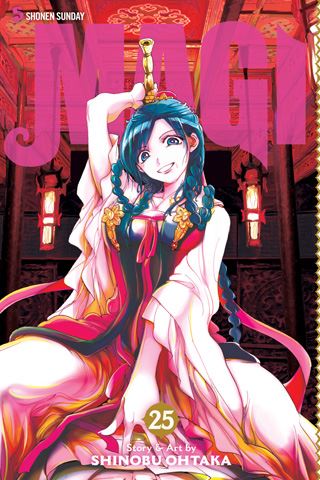 Magi Volume 25 cover image
Rated "T" for "Teen"
Magi
is set on a world that is an alternate version and recreation of the ancient Old World (similar to ancient Persia). About 14 years before the story begins, several magic castles (of various architectural styles) begin to appear in this world. These mysterious ruins are known as "
Dungeons
," and they are full of treasures and traps.
Aladdin
, who is a Magi, and his friend,
King Alibaba Saluja
, embark on dangerous and deadly adventures into those Dungeons to find fortune and glory and more adventure.
As
Magi

, Vol. 25
(Chapters 239 to 248) opens, Aladdin tries to broker peace between the three nations of the
Kou Empire
,
Leam
, and the
Seven Seas Coalition
. The leaders must ponder the tragic history of the world of Alma Tran as told by Aladdin and guard against it happening on their world. However, disagreement between the leaders means an apocalypse could also happen on this world.
However,
Hakuryu Ren
, the self-proclaimed heir to the throne of the Kou Empire, declares that he will not be part of a union. With the magi of the Kou,
Judar
, at his sight, Hakuryu heads towards the dungeon known as "
Belial
," where he hopes to find the metal vessel that will help him kill the current ruler of the Kou Empire,
Hakuei Ren
.
THE LOWDOWN:
The Magi manga (subtitled The Labyrinth of Magic) has packed so much adventure and so many subplots in its previous 24 graphic novels. Now that the series is approaching its end, creator
Shinobu Ohtaka
turns up the intensity.
Magi Volume 25
combines epic adventure and battle manga. It has been awhile since a group of characters has taken on the danger of a dungeon, as the dungeon is a central tenet of this manga. Still, Hakuryu and Judar's assault on the capital of the Kou Empire is quite bracing, and it leads up to a blast of an ending. The final story arcs of this series look to reward long time readers of Magi.
I READS YOU RECOMMENDS:
Readers, especially young manga readers, looking for adventure stories will want to read the "Shonen Sunday" title,
Magi
.
A-
7.5 out of 10
Rating: 7.5 /10
Support this writer on Patreon
Last Updated: December 31, 2019 - 20:28