Magi: The Labyrinth of Magic - Volume 24 manga review
By Leroy Douresseaux
June 18, 2017 - 18:10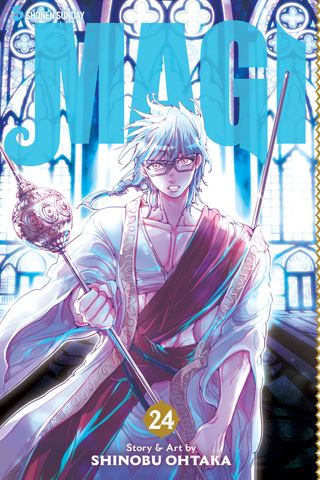 Magi Volume 24 cover image
Rated "T" for "Teen"
Magi
is set on a world that is an alternate version and recreation of the ancient Old World (similar to ancient Persia). About 14 years before the story begins, several magic castles (of various architectural styles) begin to appear in this world. These mysterious ruins are known as "Dungeons," and they are full of treasures and traps.
Aladdin
, who is a
Magi
, and his friend, King Alibaba Saluja, embark on a dangerous and deadly adventure into those Dungeons to find fortune and glory and more adventure.
As
Magi

, Vol. 24
(Chapters 229 to 238) opens, Aladdin concludes the tragic history of
Alma Tran
.
Ugo
takes on a difficult spell, while Solomon battles his father,
David
. David makes a shocking move that transforms Solomon in some ways.
Solomon
will enter the "
Flow
" and meet the dark god,
Il-Irrah
.
Queen Sheba
will battle her friend,
Arba
. See the birth of the evil group,
Al-Thamen
. Plus, the origins of Aladdin, Magi, metal vessels, djinn, dungeons, Tran people, and more.
THE LOWDOWN:
The Magi manga (subtitled The Labyrinth of Magic) packed so much adventure and so many subplots in its previous 20+ graphic novels. With the beginning of a new story arc in Vol. 21, creator Shinobu Ohtaka packs the story with history.
Magi Volume 24
is epic, but personally, this is not one of my favorite volumes of this series. The history and origin stories are interesting, but I am interested in the present. Still, longtime readers will find many questions: who, what, when, and where answered.
I READS YOU RECOMMENDS:
Readers, especially young manga readers, looking for adventure stories will want to read the "Shonen Sunday" title,
Magi
.
B
6.5 out of 10
Rating: 6.5 /10
Support this writer on Patreon
Last Updated: December 31, 2019 - 20:28