Magi: The Labyrinth of Magic - Volume 22 manga review
By Leroy Douresseaux
February 12, 2017 - 21:15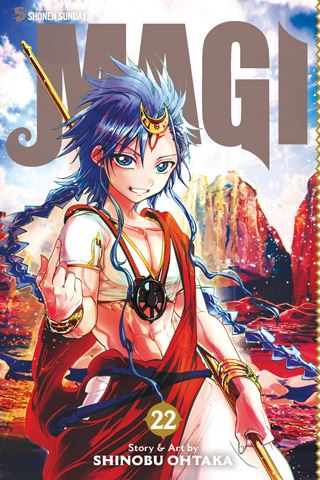 Magi Volume 22 cover image
Rated "T" for "Teen"
Set on a world that is an alternate version and recreation of the ancient Old World (similar to ancient Persia) is
Magi
. About 14 years before the story begins, several magic castles (of various architectural styles) begin to appear in this world. These mysterious ruins are known as "Dungeons," and they are full of treasures and traps.
Aladdin
, who is a Magi, and his friend,
King Alibaba Saluja
, embark on a dangerous and deadly adventure into those Dungeons to find fortune and glory and more adventure.
As
Magi

, Vol. 22
(Chapters 209 to 218) opens,
Koen Ren
, the ruler of
Kou
, gives Alibaba an ultimatum. If he wants to save his homeland,
Balbadd
, he must swear fealty to Ren. Will Alibaba submit, and if he does, why? Meanwhile,
Sindria
, the Kingdom of
Sinbad
, prepares for a summit that brings together the major powers of the world.
Also,
Mu Alexis
shocks Aladdin's friend,
Morgiana
, with an amazing tale of his visit to the secret land of their people, the
Fanaris
. However, the greatest tale will come from Aladdin. It is the tale of the lost world of Alma Tran and its lost people – including
King Solomon
.
THE LOWDOWN:
The
Magi
manga (subtitled The Labyrinth of Magic) has packed so much adventure and so many subplots in its previous 21 graphic novels. In fact, Vol. 21, according to creator
Shinobu Ohtaka
, is the beginning of a new story arc.
Magi Volume 22
suggests the depth of that new arc. Ohtaka sends his readers into deep history and a new world, and it is a really, really new world. I think this may be the best volume of this series that I have read. It may be the most important since the first volume, if not the most important. It is a reward for the readers that have stayed with this series since the early volumes. I do not want to post spoilers, but Vol. 22 is worth the read.
I READS YOU RECOMMENDS:
Readers, especially young manga readers, looking for adventure stories will want to read the "Shonen Sunday" title,
Magi
.
A
Rating: A /10
Support this writer on Patreon
Last Updated: December 31, 2019 - 20:28