Magi: The Labyrinth of Magic - Volume 21 manga review
By Leroy Douresseaux
December 14, 2016 - 23:34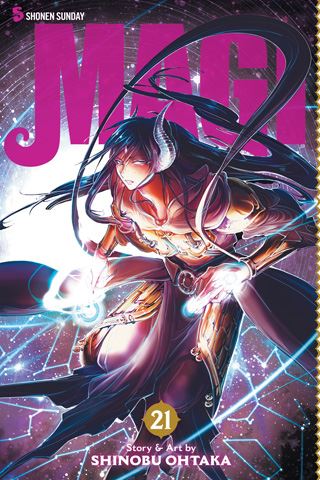 Magi Volume 21 cover image
Rated "T" for "Teen"
Magi
is set on a world that is an alternate version and recreation of the ancient Old World (similar to ancient Persia). About 14 years before the story begins, several magic castles (of various architectural styles) begin to appear in this world. These mysterious ruins are known as "Dungeons," and they are full of treasures and traps.
Aladdin
, who is a Magi, and his friend,
King Alibaba Saluja
, embark on a dangerous and deadly adventure into those Dungeons to find fortune and glory and more adventure.
Magi

, Vol. 21
(Chapters 199 to 208) opens in the aftermath of the battle for Magnoshutatt. Aladdin, Alibaba, and
Morgiana
return to
Sindria
. However, new conflicts are emerging, especially with the
Kou Empire
, so the various sides agree to a world summit.
Koen Ren
, the ruler of the Kou, wants a pre-summit conversation, so
Sindbad
, ruler of Sindria, asks Alibaba to lead a delegation to
Balbadd
to meet Koen. Alibaba returns to Balbadd, his homeland, and finds that much has changed.
THE LOWDOWN:
The
Magi
manga (subtitled
The Labyrinth of Magic
) has packed much adventure and many subplots in its previous 20 graphic novels. The lead characters have traveled to so many places that it is easy to lose track of everywhere they have been.
According to creator
Shinobu Ohtaka
,
Magi Volume 21
is the beginning of a new story arc. Ohtaka does this by bringing her characters back to the homes and safe places. The characters return to Sindria, a place from which they have been able to find themselves. One character, however, Alibaba, goes back to his homeland, a place of the good, the bad, and the ugly for him. This is a reminder that there are no throwaway elements in
Magi
. The story of Alibaba's past was so strong that returning to his origins now is proving to be quite intriguing. Twenty-one volumes in,
Magi
shows that readers did not waste their time getting here.
I READS YOU RECOMMENDS:
Readers, especially young manga readers, looking for adventure stories will want to read the "Shonen Sunday" title,
Magi
.
B+
Rating: B+ /10
Last Updated: May 19, 2020 - 12:25