Magi: The Labyrinth of Magic - Volume 20 manga review
By Leroy Douresseaux
October 10, 2016 - 23:43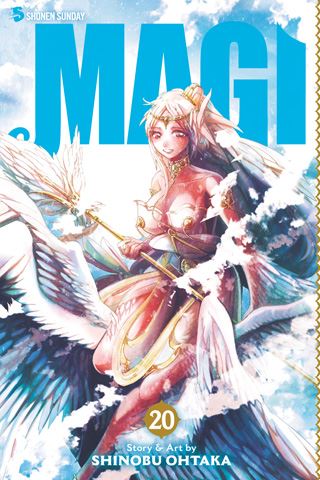 Magi Volume 20 cover image
Rated "T" for "Teen"
Magi
is set on a world that is an alternate version and recreation of the ancient Old World (similar to ancient Persia). About 14 years before the story begins, several magic castles (of various architectural styles) begin to appear in this world. These mysterious ruins are known as "Dungeons," and they are full of treasures and traps.
Aladdin
, who is a
Magi
, and his friend,
King Alibaba Saluja
, embark on a dangerous and deadly adventure into those Dungeons to find fortune and glory and more adventure.
As
Magi

, Vol. 20
(Chapters 189 to 198) opens,
Black Rukh
masses in the sky above
Magnoshutatt
. Soon, it takes the form of the terrible
Dark God
. Aladdin, Alibaba, Koen, Hakuei, Kogyuku, Koha and
Metal Vessel
users from across the world arrive to help fight it. However, Aladdin is about to discover the surprising secret of what is behind a god that reaches the sky, and a sacrifice close to Aladdin must be made to defeat it.
THE LOWDOWN:
I had not read the
Magi
manga (subtitled The Labyrinth of Magic) in a year (since Vol. 14). I lost track and did not realize how many volumes I had missed.
Magi Volume 20
is the end of the "Magnoshutatt Arc." I did not have that hard a time catching up to the narrative because most of this volume is one long, epic, magical battle.
Magi
is still occasionally poignant and never loses its sense of adventure. A new adventure begins, and I am curious to see where the story goes. The impressive thing is that creator
Shinobu Ohtaka
consistently brings change to
Magi
, and longtime readers will be impressed where the story is now from where it began.
POSSIBLE AUDIENCE:
Readers, especially young manga readers, looking for adventure stories will want to read the "Shonen Sunday" title,
Magi
.
B
Rating: B /10
Last Updated: May 19, 2020 - 12:25