Magi: The Labyrinth of Magic Volume 14 manga review
By Leroy Douresseaux
October 17, 2015 - 22:26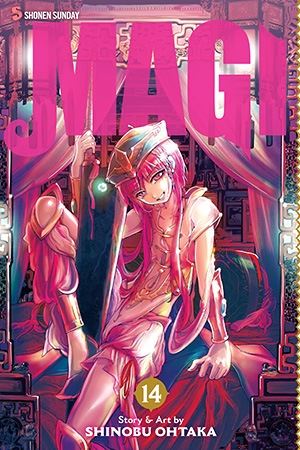 Magi Volume 14 cover iamge
Rated "T" for "Teen"
The world of
Magi
is set in an alternate version and recreation of the ancient Old World (similar to ancient Persia). About 14 years before the story begins, several magic castles (of various architectural styles) begin to appear in this world. These mysterious ruins are known as "Dungeons," and they are full of treasures and traps.
Aladdin
, who is a
Magi
, and his friend,
King Alibaba Saluja
, embark on a dangerous and deadly adventure into those Dungeons to find fortune and glory and more adventure.
As
Magi

, Vol. 14
(Chapters 129 to 138) begins, Aladdin and his friends take on the full power of pirate queen,
Amu Madaura
. Using the strange magical item called, "
Holy Mother Halo Fan
," all fall before her. However, it has the strangest affect on
Hakuryu Ren
, fourth prince of the
Kou Empire
, and it will reveal his dark past and also, change his relationships with his friends.
Then, it is time for everyone to go their separate ways. After Hakuryu's sudden departure, Aladdin, Alibaba, and
Morgiana
much each follow a different path. For Aladdin, the destination is the
Magnoshutatt Academy
, where he will learn magic... in ways he did not expect.
THE LOWDOWN:
Just as it did the previous volume, it has done it again. The
Magi
manga (subtitled
The Labyrinth of Magic
) surprised me. As a regular reader of
Magi
, I had settled into the idea of Aladdin and company living in Sindria and having wonderful adventures, but this series is in a constant state of flux, or so it seems.
Magi Volume 14
has two surprises. First, There are multiple depictions of extreme violence. It is not as if
Magi
has been without gruesome death; it is that there is so much of it in this volume that the violence seems, at time, gratuitous. Also, the sudden partings are a bit jarring, but that will make the series longer, and probably even more fun to read.
POSSIBLE AUDIENCE:
Readers, especially young manga readers, looking for adventure stories will want to read the "Shonen Sunday" title,
Magi
.
Rating: A /10
Last Updated: August 31, 2023 - 08:12